To answer the demand for fine-tuning abilities of various output parameters when using a DOE, such as: shape/spot size, separation/divergence angle, etc., HOLO/OR designed a variable beam expander, optimized for use with Top-Hat beam shaper, Homogenizer, MultiSpot, and other DOE products. Another application is the fine-tuning of incident beam size before DOE for Top-Hat application, where precision of incident beam size is important.
This BE variable zoom module enables smooth transition from beam reduction (down  to X0.8) to expansion (up to X1.2), and accepts large divergence angles, making it ideally suitable for DOE shapers and splitters  fine tuning.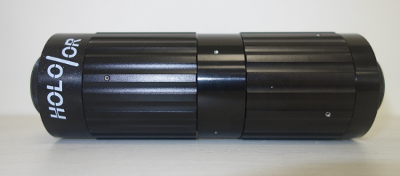 The DOE tuner presents the following features:
Very low wavefront error
No need to change module direction
Sliding lenses
Constant mechanical size
Fused Silica lens material
Wavelength range = 266-1064 [nm]
Other wavelengths upon request
The DOE tuner standard Products
| | |
| --- | --- |
| Wavelength range | 266-1064 nm |
| Beam expander | x0.8-x1.2 |
| Clear aperture | 23 mm |
| Max. input beam diameter (1/e2) | Ø8.4 mm (0.8x), Ø7.0 mm (1.2x) |
| Max. output beam size | 8.4 mm |
| Max. incident angle* | 0.5 degrees |
| | |
| --- | --- |
| Module length | 150 mm |
| External diameter | 50.8 mm |
| Adapter | C-mount |
| Lens material | Fused Silica |
Different configurations for using the DOE-Tuner module
2. Placing the DOE-Tuner after a DOE
Purpose – controlling divergence of the output beam, allows to vary key parameters of DOE in range of 80-120%
Benefit:

Multi-Spot – controls the separation angle
Multifocal – controls the separation between foci
Top-Hat , Homogenizer & others – controls the image size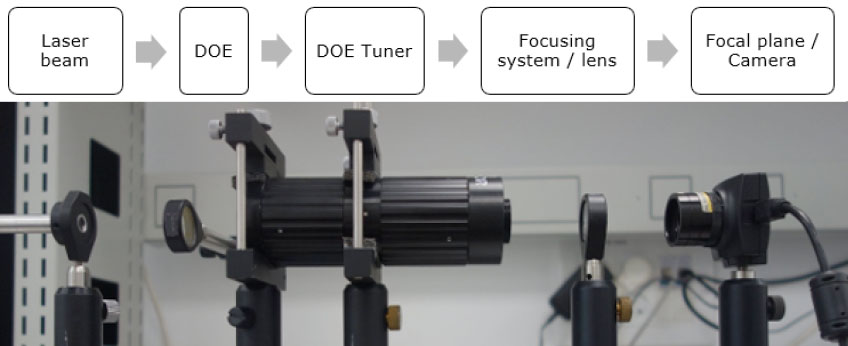 A Zemax Black Box of the DOE Tuner is available for different wavelengths:
A Zemax Black Box of the DOE tuner is also available for other wavelengths upon request.
Click here for a user manual for the DOE Tuner module.