TOP-HAT Beam Shaper Products
The "Top-Hat" or "Flat-Top" beam shapers are diffractive optical elements (DOEs) used to transform a near-gaussian incident laser beam into a uniform-intensity (flat) spot of either round, rectangular, square, line or other shape with sharp edges in a specific work plane.
A uniform spot achieved by the top-hat beam shaper enables equal treatment to a surface, preventing over or under-exposure of specific areas. The beam shaper creates a well defined spot, with a flat-top profile, characterized by a sharp transition region that creates a clear border between treated and untreated areas.
Below is a list of our top-hat beam shaper DOEs, which gives flat uniform intensity distribution at infinity or focal length of an aberration free customer's lens.
Typical applications for top-hat (flat-top) beam shapers include: Laser Ablation, Laser Welding, Laser perforation, Laser Scribing, Medical and aesthetic laser applications. Read more about Top-Hat Beam Shapers applications.
For Multimode laser, we generally recommend to use our Beam homogenizer product line. Click here for more information on Beam Homogenizer.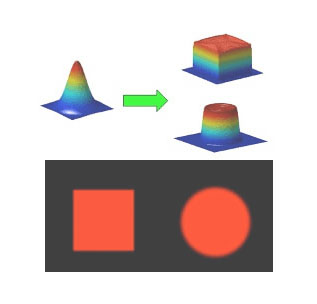 Please enter your laser wavelength and use the filter products below.
Moreover, for a quick quotation for products you see in the table, please check all the desired PNs at the last column of the table and click on the add to quote button.
Need shorter lead time? Lead time of uncoated DOE is 5 weeks shorter! Click here for questions.
PN
λ [nm]
Beam Dia [mm]
Image Shape
θf [mRad]
Image size [um] EFL=

100

mm
Availability
Remarks
Add to Quote
ST-207-Q-N-A
1064
10
Round
0.6
60
In Stock

---

Input Parameters

Required Beam Diameter at 1/e2 [mm]:

10

Beam Mode (SM/MM):

Single Mode TEM00 with M^2<1.5

Output Parameters

Full Angle at 1/e2 [mRad]:

0.6

Transfer Region [mRad]:

0.04

Transmission efficiency:

Close to 100%

ST-207-Q-Y-A
1064
10
Round
0.6
60
In Stock

---

Input Parameters

Required Beam Diameter at 1/e2 [mm]:

10

Beam Mode (SM/MM):

Single Mode TEM00 with M^2<1.5

Output Parameters

Full Angle at 1/e2 [mRad]:

0.6

Transfer Region [mRad]:

0.04

Transmission efficiency:

Close to 100%

ST-212-Q-N-A
1064
7
Square
1
100
In Stock

---

Input Parameters

Required Beam Diameter at 1/e2 [mm]:

7

Beam Mode (SM/MM):

Single Mode TEM00 with M^2<1.5

Output Parameters

Full Angle at 1/e2 [mRad]:

1

Transfer Region [mRad]:

0.07

Transmission efficiency:

Close to 100%

ST-212-Q-Y-A
1064
7
Square
1
100
In Stock

---

Input Parameters

Required Beam Diameter at 1/e2 [mm]:

7

Beam Mode (SM/MM):

Single Mode TEM00 with M^2<1.5

Output Parameters

Full Angle at 1/e2 [mRad]:

1

Transfer Region [mRad]:

0.07

Transmission efficiency:

Close to 100%

ST-219-Q-N-A
1064
4
Round
0.518
51.8
In Stock
Small TH

---

Input Parameters

Required Beam Diameter at 1/e2 [mm]:

4

Beam Mode (SM/MM):

Single Mode TEM00 with M^2<1.5

Output Parameters

Full Angle at 1/e2 [mRad]:

0.518

Transfer Region [mRad]:

0.12

Transmission efficiency:

Close to 100%

Uniformity (contrast):

< 5

ST-219-Q-Y-A
1064
4
Round
0.518
51.8
In Stock
Small TH

---

Input Parameters

Required Beam Diameter at 1/e2 [mm]:

4

Beam Mode (SM/MM):

Single Mode TEM00 with M^2<1.5

Output Parameters

Full Angle at 1/e2 [mRad]:

0.518

Transfer Region [mRad]:

0.12

Transmission efficiency:

Close to 100%

Uniformity (contrast):

< 5

ST-220-Q-N-A
1064
4
Square
0.521
52.1
In Stock
Small TH

---

Input Parameters

Required Beam Diameter at 1/e2 [mm]:

4

Beam Mode (SM/MM):

Single Mode TEM00 with M^2<1.5

Output Parameters

Full Angle at 1/e2 [mRad]:

0.521

Transfer Region [mRad]:

0.12

Transmission efficiency:

Close to 100%

Uniformity (contrast):

< 5

ST-220-Q-Y-A
1064
4
Square
0.521
52.1
In Stock
Small TH

---

Input Parameters

Required Beam Diameter at 1/e2 [mm]:

4

Beam Mode (SM/MM):

Single Mode TEM00 with M^2<1.5

Output Parameters

Full Angle at 1/e2 [mRad]:

0.521

Transfer Region [mRad]:

0.12

Transmission efficiency:

Close to 100%

Uniformity (contrast):

< 5

ST-221-J-N-A
1064
4.7
Round
0.439
43.9
In Stock
Small TH

---

Input Parameters

Required Beam Diameter at 1/e2 [mm]:

4.7

Beam Mode (SM/MM):

Single Mode TEM00 with M^2<1.5

Output Parameters

Full Angle at 1/e2 [mRad]:

0.439

Transfer Region [mRad]:

0.1

Transmission efficiency:

Close to 100%

Uniformity (contrast):

< 5

ST-221-J-Y-A
1064
4.7
Round
0.439
43.9
6 weeks
Small TH

---

Input Parameters

Required Beam Diameter at 1/e2 [mm]:

4.7

Beam Mode (SM/MM):

Single Mode TEM00 with M^2<1.5

Output Parameters

Full Angle at 1/e2 [mRad]:

0.439

Transfer Region [mRad]:

0.1

Transmission efficiency:

Close to 100%

Uniformity (contrast):

< 5

ST-222-J-N-A
1064
5
Round
0.405
40.5
In Stock
Small TH

---

Input Parameters

Required Beam Diameter at 1/e2 [mm]:

5

Beam Mode (SM/MM):

Single Mode TEM00 with M^2<1.5

Output Parameters

Full Angle at 1/e2 [mRad]:

0.405

Transfer Region [mRad]:

0.1

Transmission efficiency:

Close to 100%

Uniformity (contrast):

< 5

ST-222-J-Y-A
1064
5
Round
0.405
40.5
6 weeks
Small TH

---

Input Parameters

Required Beam Diameter at 1/e2 [mm]:

5

Beam Mode (SM/MM):

Single Mode TEM00 with M^2<1.5

Output Parameters

Full Angle at 1/e2 [mRad]:

0.405

Transfer Region [mRad]:

0.1

Transmission efficiency:

Close to 100%

Uniformity (contrast):

< 5

ST-223-Q-N-A
1064
6
Line
3
300
In Stock

---

Input Parameters

Required Beam Diameter at 1/e2 [mm]:

6

Beam Mode (SM/MM):

Single Mode TEM00 with M^2<1.5

Output Parameters

Full Angle at 1/e2 [mRad]:

3

Transfer Region [mRad]:

0.06

Transmission efficiency:

Close to 100%

ST-223-Q-Y-A
1064
6
Line
3
300
7 weeks

---

Input Parameters

Required Beam Diameter at 1/e2 [mm]:

6

Beam Mode (SM/MM):

Single Mode TEM00 with M^2<1.5

Output Parameters

Full Angle at 1/e2 [mRad]:

3

Transfer Region [mRad]:

0.06

Transmission efficiency:

Close to 100%

ST-225-I-N-A
1064
4.5
Square
0.469
46.9
In Stock
Small TH

---

Input Parameters

Required Beam Diameter at 1/e2 [mm]:

4.5

Beam Mode (SM/MM):

Single Mode TEM00 with M^2<1.5

Output Parameters

Full Angle at 1/e2 [mRad]:

0.469

Transfer Region [mRad]:

0.11

Transmission efficiency:

Close to 100%

Uniformity (contrast):

< 5

ST-225-I-Y-A
1064
4.5
Square
0.469
46.9
6 weeks
Small TH

---

Input Parameters

Required Beam Diameter at 1/e2 [mm]:

4.5

Beam Mode (SM/MM):

Single Mode TEM00 with M^2<1.5

Output Parameters

Full Angle at 1/e2 [mRad]:

0.469

Transfer Region [mRad]:

0.11

Transmission efficiency:

Close to 100%

Uniformity (contrast):

< 5

ST-230-Q-N-A
1064
7
Round
0.29
29
In Stock
Small TH

---

Input Parameters

Required Beam Diameter at 1/e2 [mm]:

7

Beam Mode (SM/MM):

Single Mode TEM00 with M^2<1.5

Output Parameters

Full Angle at 1/e2 [mRad]:

0.29

Transfer Region [mRad]:

0.068

Transmission efficiency:

Close to 100%

Uniformity (contrast):

< 5

ST-230-Q-Y-A
1064
7
Round
0.29
29
6 weeks
Small TH

---

Input Parameters

Required Beam Diameter at 1/e2 [mm]:

7

Beam Mode (SM/MM):

Single Mode TEM00 with M^2<1.5

Output Parameters

Full Angle at 1/e2 [mRad]:

0.29

Transfer Region [mRad]:

0.068

Transmission efficiency:

Close to 100%

Uniformity (contrast):

< 5

ST-234-Q-N-A
1064
7
Square
0.296
29.6
In Stock
Small TH

---

Input Parameters

Required Beam Diameter at 1/e2 [mm]:

7

Beam Mode (SM/MM):

Single Mode TEM00 with M^2<1.5

Output Parameters

Full Angle at 1/e2 [mRad]:

0.296

Transfer Region [mRad]:

0.067

Transmission efficiency:

Close to 100%

Uniformity (contrast):

< 5

ST-234-Q-Y-A
1064
7
Square
0.296
29.6
In Stock
Small TH

---

Input Parameters

Required Beam Diameter at 1/e2 [mm]:

7

Beam Mode (SM/MM):

Single Mode TEM00 with M^2<1.5

Output Parameters

Full Angle at 1/e2 [mRad]:

0.296

Transfer Region [mRad]:

0.067

Transmission efficiency:

Close to 100%

Uniformity (contrast):

< 5

ST-235-Q-N-A
1064
8
Square
0.26
26
In Stock
Small TH

---

Input Parameters

Required Beam Diameter at 1/e2 [mm]:

8

Beam Mode (SM/MM):

Single Mode TEM00 with M^2<1.5

Output Parameters

Full Angle at 1/e2 [mRad]:

0.26

Transfer Region [mRad]:

0.059

Transmission efficiency:

Close to 100%

Uniformity (contrast):

< 5

ST-235-Q-Y-A
1064
8
Square
0.26
26
In Stock
Small TH

---

Input Parameters

Required Beam Diameter at 1/e2 [mm]:

8

Beam Mode (SM/MM):

Single Mode TEM00 with M^2<1.5

Output Parameters

Full Angle at 1/e2 [mRad]:

0.26

Transfer Region [mRad]:

0.059

Transmission efficiency:

Close to 100%

Uniformity (contrast):

< 5

ST-236-Q-N-A
1064
9
Square
0.227
22.7
In Stock
Small TH

---

Input Parameters

Required Beam Diameter at 1/e2 [mm]:

9

Beam Mode (SM/MM):

Single Mode TEM00 with M^2<1.5

Output Parameters

Full Angle at 1/e2 [mRad]:

0.227

Transfer Region [mRad]:

0.051

Transmission efficiency:

Close to 100%

Uniformity (contrast):

< 5

ST-236-Q-Y-A
1064
9
Square
0.227
22.7
6 weeks
Small TH

---

Input Parameters

Required Beam Diameter at 1/e2 [mm]:

9

Beam Mode (SM/MM):

Single Mode TEM00 with M^2<1.5

Output Parameters

Full Angle at 1/e2 [mRad]:

0.227

Transfer Region [mRad]:

0.051

Transmission efficiency:

Close to 100%

Uniformity (contrast):

< 5

ST-237-Q-N-A
1064
9
Round
0.23
23
In Stock
Small TH

---

Input Parameters

Required Beam Diameter at 1/e2 [mm]:

9

Beam Mode (SM/MM):

Single Mode TEM00 with M^2<1.5

Output Parameters

Full Angle at 1/e2 [mRad]:

0.23

Transfer Region [mRad]:

0.053

Transmission efficiency:

Close to 100%

Uniformity (contrast):

< 5

ST-237-Q-Y-A
1064
9
Round
0.23
23
In Stock
Small TH

---

Input Parameters

Required Beam Diameter at 1/e2 [mm]:

9

Beam Mode (SM/MM):

Single Mode TEM00 with M^2<1.5

Output Parameters

Full Angle at 1/e2 [mRad]:

0.23

Transfer Region [mRad]:

0.053

Transmission efficiency:

Close to 100%

Uniformity (contrast):

< 5

ST-238-I-N-A
1064
10
Square
0.205
20.5
In Stock
Small TH

---

Input Parameters

Required Beam Diameter at 1/e2 [mm]:

10

Beam Mode (SM/MM):

Single Mode TEM00 with M^2<1.5

Output Parameters

Full Angle at 1/e2 [mRad]:

0.205

Transfer Region [mRad]:

0.045

Transmission efficiency:

Close to 100%

Uniformity (contrast):

< 5

ST-238-I-Y-A
1064
10
Square
0.205
20.5
6 weeks
Small TH

---

Input Parameters

Required Beam Diameter at 1/e2 [mm]:

10

Beam Mode (SM/MM):

Single Mode TEM00 with M^2<1.5

Output Parameters

Full Angle at 1/e2 [mRad]:

0.205

Transfer Region [mRad]:

0.045

Transmission efficiency:

Close to 100%

Uniformity (contrast):

< 5

ST-239-I-N-A
1064
6
Round
0.346
34.6
In Stock
Small TH

---

Input Parameters

Required Beam Diameter at 1/e2 [mm]:

6

Beam Mode (SM/MM):

Single Mode TEM00 with M^2<1.5

Output Parameters

Full Angle at 1/e2 [mRad]:

0.346

Transfer Region [mRad]:

0.08

Transmission efficiency:

Close to 100%

Uniformity (contrast):

< 5

ST-239-I-Y-A
1064
6
Round
0.346
34.6
6 weeks
Small TH

---

Input Parameters

Required Beam Diameter at 1/e2 [mm]:

6

Beam Mode (SM/MM):

Single Mode TEM00 with M^2<1.5

Output Parameters

Full Angle at 1/e2 [mRad]:

0.346

Transfer Region [mRad]:

0.08

Transmission efficiency:

Close to 100%

Uniformity (contrast):

< 5

ST-240-I-N-A
1064
8
Round
0.259
25.9
In Stock
Small TH

---

Input Parameters

Required Beam Diameter at 1/e2 [mm]:

8

Beam Mode (SM/MM):

Single Mode TEM00 with M^2<1.5

Output Parameters

Full Angle at 1/e2 [mRad]:

0.259

Transfer Region [mRad]:

0.06

Transmission efficiency:

Close to 100%

Uniformity (contrast):

< 5

ST-240-I-Y-A
1064
8
Round
0.259
25.9
6 weeks
Small TH

---

Input Parameters

Required Beam Diameter at 1/e2 [mm]:

8

Beam Mode (SM/MM):

Single Mode TEM00 with M^2<1.5

Output Parameters

Full Angle at 1/e2 [mRad]:

0.259

Transfer Region [mRad]:

0.06

Transmission efficiency:

Close to 100%

Uniformity (contrast):

< 5

ST-241-I-N-A
1064
10
Round
0.2077
20.77
In Stock
Small TH

---

Input Parameters

Required Beam Diameter at 1/e2 [mm]:

10

Beam Mode (SM/MM):

Single Mode TEM00 with M^2<1.5

Output Parameters

Full Angle at 1/e2 [mRad]:

0.2077

Transfer Region [mRad]:

0.048

Transmission efficiency:

Close to 100%

Uniformity (contrast):

< 5

ST-241-I-Y-A
1064
10
Round
0.2077
20.77
In Stock
Small TH

---

Input Parameters

Required Beam Diameter at 1/e2 [mm]:

10

Beam Mode (SM/MM):

Single Mode TEM00 with M^2<1.5

Output Parameters

Full Angle at 1/e2 [mRad]:

0.2077

Transfer Region [mRad]:

0.048

Transmission efficiency:

Close to 100%

Uniformity (contrast):

< 5

ST-258-I-N-A
1064
10
Line
3.9
390
In Stock

---

Input Parameters

Required Beam Diameter at 1/e2 [mm]:

10

Beam Mode (SM/MM):

Single Mode TEM00 with M^2<1.5

Output Parameters

Full Angle at 1/e2 [mRad]:

3.9

Transfer Region [mRad]:

0.075

Transmission efficiency:

Close to 100%

ST-258-I-Y-A
1064
10
Line
3.9
390
7 weeks

---

Input Parameters

Required Beam Diameter at 1/e2 [mm]:

10

Beam Mode (SM/MM):

Single Mode TEM00 with M^2<1.5

Output Parameters

Full Angle at 1/e2 [mRad]:

3.9

Transfer Region [mRad]:

0.075

Transmission efficiency:

Close to 100%

ST-259-I-N-A
1064
2
Round
1.0375
103.75
In Stock
Small TH

---

Input Parameters

Required Beam Diameter at 1/e2 [mm]:

2

Beam Mode (SM/MM):

Single Mode TEM00 with M^2<1.5

Output Parameters

Full Angle at 1/e2 [mRad]:

1.0375

Transfer Region [mRad]:

0.24

Transmission efficiency:

Close to 100%

Uniformity (contrast):

< 5

ST-259-I-Y-A
1064
2
Round
1.0375
103.75
In Stock
Small TH

---

Input Parameters

Required Beam Diameter at 1/e2 [mm]:

2

Beam Mode (SM/MM):

Single Mode TEM00 with M^2<1.5

Output Parameters

Full Angle at 1/e2 [mRad]:

1.0375

Transfer Region [mRad]:

0.24

Transmission efficiency:

Close to 100%

Uniformity (contrast):

< 5

ST-260-I-N-A
1064
3
Round
0.692
69.2
In Stock
Small TH

---

Input Parameters

Required Beam Diameter at 1/e2 [mm]:

3

Beam Mode (SM/MM):

Single Mode TEM00 with M^2<1.5

Output Parameters

Full Angle at 1/e2 [mRad]:

0.692

Transfer Region [mRad]:

0.16

Transmission efficiency:

Close to 100%

Uniformity (contrast):

< 5

ST-260-I-Y-A
1064
3
Round
0.692
69.2
6 weeks
Small TH

---

Input Parameters

Required Beam Diameter at 1/e2 [mm]:

3

Beam Mode (SM/MM):

Single Mode TEM00 with M^2<1.5

Output Parameters

Full Angle at 1/e2 [mRad]:

0.692

Transfer Region [mRad]:

0.16

Transmission efficiency:

Close to 100%

Uniformity (contrast):

< 5

ST-261-U-N-A
1064
12
Rectangular
0.36x1.78
36
In Stock

---

Input Parameters

Required Beam Diameter at 1/e2 [mm]:

12

Beam Mode (SM/MM):

Single Mode TEM00 with M^2<1.5

Output Parameters

Full Angle at 1/e2 [mRad]:

0.36x1.78

Transfer Region [mRad]:

0.077x0.085

Transmission efficiency:

Close to 100%

ST-261-U-Y-A
1064
12
Rectangular
0.36x1.78
36
In Stock

---

Input Parameters

Required Beam Diameter at 1/e2 [mm]:

12

Beam Mode (SM/MM):

Single Mode TEM00 with M^2<1.5

Output Parameters

Full Angle at 1/e2 [mRad]:

0.36x1.78

Transfer Region [mRad]:

0.077x0.085

Transmission efficiency:

Close to 100%

ST-262-U-N-A
1064
12
Rectangular
0.36x2.10
36
In Stock

---

Input Parameters

Required Beam Diameter at 1/e2 [mm]:

12

Beam Mode (SM/MM):

Single Mode TEM00 with M^2<1.5

Output Parameters

Full Angle at 1/e2 [mRad]:

0.36x2.10

Transfer Region [mRad]:

0.076x0.085

Transmission efficiency:

Close to 100%

ST-262-U-Y-A
1064
12
Rectangular
0.36x2.10
36
In Stock

---

Input Parameters

Required Beam Diameter at 1/e2 [mm]:

12

Beam Mode (SM/MM):

Single Mode TEM00 with M^2<1.5

Output Parameters

Full Angle at 1/e2 [mRad]:

0.36x2.10

Transfer Region [mRad]:

0.076x0.085

Transmission efficiency:

Close to 100%

ST-263-U-N-A
1064
12
Rectangular
0.36x2.39
36
In Stock

---

Input Parameters

Required Beam Diameter at 1/e2 [mm]:

12

Beam Mode (SM/MM):

Single Mode TEM00 with M^2<1.5

Output Parameters

Full Angle at 1/e2 [mRad]:

0.36x2.39

Transfer Region [mRad]:

0.074x0.083

Transmission efficiency:

Close to 100%

ST-263-U-Y-A
1064
12
Rectangular
0.36x2.39
36
In Stock

---

Input Parameters

Required Beam Diameter at 1/e2 [mm]:

12

Beam Mode (SM/MM):

Single Mode TEM00 with M^2<1.5

Output Parameters

Full Angle at 1/e2 [mRad]:

0.36x2.39

Transfer Region [mRad]:

0.074x0.083

Transmission efficiency:

Close to 100%

ST-264-U-N-A
1064
12
Rectangular
0.37x2.69
37
In Stock

---

Input Parameters

Required Beam Diameter at 1/e2 [mm]:

12

Beam Mode (SM/MM):

Single Mode TEM00 with M^2<1.5

Output Parameters

Full Angle at 1/e2 [mRad]:

0.37x2.69

Transfer Region [mRad]:

0.073x0.092

Transmission efficiency:

Close to 100%

ST-264-U-Y-A
1064
12
Rectangular
0.37x2.69
37
In Stock

---

Input Parameters

Required Beam Diameter at 1/e2 [mm]:

12

Beam Mode (SM/MM):

Single Mode TEM00 with M^2<1.5

Output Parameters

Full Angle at 1/e2 [mRad]:

0.37x2.69

Transfer Region [mRad]:

0.073x0.092

Transmission efficiency:

Close to 100%

ST-267-I-N-A
1064
2
Line
1.04
104
In Stock
Small TH

---

Input Parameters

Required Beam Diameter at 1/e2 [mm]:

2

Beam Mode (SM/MM):

Single Mode TEM00 with M^2<1.5

Output Parameters

Full Angle at 1/e2 [mRad]:

1.04

Transfer Region [mRad]:

0.24

Transmission efficiency:

Close to 100%

Uniformity (contrast):

< 5

ST-267-I-Y-A
1064
2
Line
1.04
104
6 weeks
Small TH

---

Input Parameters

Required Beam Diameter at 1/e2 [mm]:

2

Beam Mode (SM/MM):

Single Mode TEM00 with M^2<1.5

Output Parameters

Full Angle at 1/e2 [mRad]:

1.04

Transfer Region [mRad]:

0.24

Transmission efficiency:

Close to 100%

Uniformity (contrast):

< 5

ST-268-I-N-A
1064
3
Line
0.693
69.3
In Stock
Small TH

---

Input Parameters

Required Beam Diameter at 1/e2 [mm]:

3

Beam Mode (SM/MM):

Single Mode TEM00 with M^2<1.5

Output Parameters

Full Angle at 1/e2 [mRad]:

0.693

Transfer Region [mRad]:

0.16

Transmission efficiency:

Close to 100%

Uniformity (contrast):

< 5

ST-268-I-Y-A
1064
3
Line
0.693
69.3
6 weeks
Small TH

---

Input Parameters

Required Beam Diameter at 1/e2 [mm]:

3

Beam Mode (SM/MM):

Single Mode TEM00 with M^2<1.5

Output Parameters

Full Angle at 1/e2 [mRad]:

0.693

Transfer Region [mRad]:

0.16

Transmission efficiency:

Close to 100%

Uniformity (contrast):

< 5

ST-269-I-N-A
1064
4
Line
0.52
52
In Stock
Small TH

---

Input Parameters

Required Beam Diameter at 1/e2 [mm]:

4

Beam Mode (SM/MM):

Single Mode TEM00 with M^2<1.5

Output Parameters

Full Angle at 1/e2 [mRad]:

0.52

Transfer Region [mRad]:

0.12

Transmission efficiency:

Close to 100%

Uniformity (contrast):

< 5

ST-269-I-Y-A
1064
4
Line
0.52
52
6 weeks
Small TH

---

Input Parameters

Required Beam Diameter at 1/e2 [mm]:

4

Beam Mode (SM/MM):

Single Mode TEM00 with M^2<1.5

Output Parameters

Full Angle at 1/e2 [mRad]:

0.52

Transfer Region [mRad]:

0.12

Transmission efficiency:

Close to 100%

Uniformity (contrast):

< 5

ST-270-I-N-A
1064
5
Line
0.429
42.9
In Stock
Small TH

---

Input Parameters

Required Beam Diameter at 1/e2 [mm]:

5

Beam Mode (SM/MM):

Single Mode TEM00 with M^2<1.5

Output Parameters

Full Angle at 1/e2 [mRad]:

0.429

Transfer Region [mRad]:

0.098

Transmission efficiency:

Close to 100%

Uniformity (contrast):

< 5

ST-270-I-Y-A
1064
5
Line
0.429
42.9
6 weeks
Small TH

---

Input Parameters

Required Beam Diameter at 1/e2 [mm]:

5

Beam Mode (SM/MM):

Single Mode TEM00 with M^2<1.5

Output Parameters

Full Angle at 1/e2 [mRad]:

0.429

Transfer Region [mRad]:

0.098

Transmission efficiency:

Close to 100%

Uniformity (contrast):

< 5

ST-275-I-N-A
1064
8
Line
0.26
26
In Stock
Small TH

---

Input Parameters

Required Beam Diameter at 1/e2 [mm]:

8

Beam Mode (SM/MM):

Single Mode TEM00 with M^2<1.5

Output Parameters

Full Angle at 1/e2 [mRad]:

0.26

Transfer Region [mRad]:

0.061

Transmission efficiency:

Close to 100%

Uniformity (contrast):

< 5

ST-275-I-Y-A
1064
8
Line
0.26
26
6 weeks
Small TH

---

Input Parameters

Required Beam Diameter at 1/e2 [mm]:

8

Beam Mode (SM/MM):

Single Mode TEM00 with M^2<1.5

Output Parameters

Full Angle at 1/e2 [mRad]:

0.26

Transfer Region [mRad]:

0.061

Transmission efficiency:

Close to 100%

Uniformity (contrast):

< 5

ST-276-I-N-A
1064
10
Line
0.208
20.8
In Stock
Small TH

---

Input Parameters

Required Beam Diameter at 1/e2 [mm]:

10

Beam Mode (SM/MM):

Single Mode TEM00 with M^2<1.5

Output Parameters

Full Angle at 1/e2 [mRad]:

0.208

Transfer Region [mRad]:

0.049

Transmission efficiency:

Close to 100%

Uniformity (contrast):

< 5

ST-276-I-Y-A
1064
10
Line
0.208
20.8
6 weeks
Small TH

---

Input Parameters

Required Beam Diameter at 1/e2 [mm]:

10

Beam Mode (SM/MM):

Single Mode TEM00 with M^2<1.5

Output Parameters

Full Angle at 1/e2 [mRad]:

0.208

Transfer Region [mRad]:

0.049

Transmission efficiency:

Close to 100%

Uniformity (contrast):

< 5

ST-277-I-N-A
1064
7
Line
0.297
29.7
In Stock
Small TH

---

Input Parameters

Required Beam Diameter at 1/e2 [mm]:

7

Beam Mode (SM/MM):

Single Mode TEM00 with M^2<1.5

Output Parameters

Full Angle at 1/e2 [mRad]:

0.297

Transfer Region [mRad]:

0.07

Transmission efficiency:

Close to 100%

Uniformity (contrast):

< 5

ST-277-I-Y-A
1064
7
Line
0.297
29.7
6 weeks
Small TH

---

Input Parameters

Required Beam Diameter at 1/e2 [mm]:

7

Beam Mode (SM/MM):

Single Mode TEM00 with M^2<1.5

Output Parameters

Full Angle at 1/e2 [mRad]:

0.297

Transfer Region [mRad]:

0.07

Transmission efficiency:

Close to 100%

Uniformity (contrast):

< 5

ST-278-I-N-A
1064
9
Line
0.231
23.1
In Stock
Small TH

---

Input Parameters

Required Beam Diameter at 1/e2 [mm]:

9

Beam Mode (SM/MM):

Single Mode TEM00 with M^2<1.5

Output Parameters

Full Angle at 1/e2 [mRad]:

0.231

Transfer Region [mRad]:

0.054

Transmission efficiency:

Close to 100%

Uniformity (contrast):

< 5

ST-278-I-Y-A
1064
9
Line
0.231
23.1
6 weeks
Small TH

---

Input Parameters

Required Beam Diameter at 1/e2 [mm]:

9

Beam Mode (SM/MM):

Single Mode TEM00 with M^2<1.5

Output Parameters

Full Angle at 1/e2 [mRad]:

0.231

Transfer Region [mRad]:

0.054

Transmission efficiency:

Close to 100%

Uniformity (contrast):

< 5

ST-279-U-N-A
1064
12
Rectangular
0.36x3.00
36
In Stock

---

Input Parameters

Required Beam Diameter at 1/e2 [mm]:

12

Beam Mode (SM/MM):

Single Mode TEM00 with M^2<1.5

Output Parameters

Full Angle at 1/e2 [mRad]:

0.36x3.00

Transfer Region [mRad]:

0.081x0.1

Transmission efficiency:

Close to 100%

ST-279-U-Y-A
1064
12
Rectangular
0.36x3.00
36
In Stock

---

Input Parameters

Required Beam Diameter at 1/e2 [mm]:

12

Beam Mode (SM/MM):

Single Mode TEM00 with M^2<1.5

Output Parameters

Full Angle at 1/e2 [mRad]:

0.36x3.00

Transfer Region [mRad]:

0.081x0.1

Transmission efficiency:

Close to 100%

ST-280-U-N-A
1064
12
Rectangular
0.37x3.30
37
In Stock

---

Input Parameters

Required Beam Diameter at 1/e2 [mm]:

12

Beam Mode (SM/MM):

Single Mode TEM00 with M^2<1.5

Output Parameters

Full Angle at 1/e2 [mRad]:

0.37x3.30

Transfer Region [mRad]:

0.079x0.13

Transmission efficiency:

Close to 100%

ST-280-U-Y-A
1064
12
Rectangular
0.37x3.30
37
In Stock

---

Input Parameters

Required Beam Diameter at 1/e2 [mm]:

12

Beam Mode (SM/MM):

Single Mode TEM00 with M^2<1.5

Output Parameters

Full Angle at 1/e2 [mRad]:

0.37x3.30

Transfer Region [mRad]:

0.079x0.13

Transmission efficiency:

Close to 100%

ST-281-I-N-A
1064
6
Line
0.342
34.2
In Stock
Small TH

---

Input Parameters

Required Beam Diameter at 1/e2 [mm]:

6

Beam Mode (SM/MM):

Single Mode TEM00 with M^2<1.5

Output Parameters

Full Angle at 1/e2 [mRad]:

0.342

Transfer Region [mRad]:

0.079

Transmission efficiency:

Close to 100%

Uniformity (contrast):

< 5

ST-281-I-Y-A
1064
6
Line
0.342
34.2
6 weeks
Small TH

---

Input Parameters

Required Beam Diameter at 1/e2 [mm]:

6

Beam Mode (SM/MM):

Single Mode TEM00 with M^2<1.5

Output Parameters

Full Angle at 1/e2 [mRad]:

0.342

Transfer Region [mRad]:

0.079

Transmission efficiency:

Close to 100%

Uniformity (contrast):

< 5

ST-282-I-N-A
1064
6
Square
0.342
34.2
In Stock
Small TH

---

Input Parameters

Required Beam Diameter at 1/e2 [mm]:

6

Beam Mode (SM/MM):

Single Mode TEM00 with M^2<1.5

Output Parameters

Full Angle at 1/e2 [mRad]:

0.342

Transfer Region [mRad]:

0.079

Transmission efficiency:

Close to 100%

Uniformity (contrast):

< 5

ST-282-I-Y-A
1064
6
Square
0.342
34.2
6 weeks
Small TH

---

Input Parameters

Required Beam Diameter at 1/e2 [mm]:

6

Beam Mode (SM/MM):

Single Mode TEM00 with M^2<1.5

Output Parameters

Full Angle at 1/e2 [mRad]:

0.342

Transfer Region [mRad]:

0.079

Transmission efficiency:

Close to 100%

Uniformity (contrast):

< 5

ST-283-U-N-A
1064
12
Rectangular
0.36x1.80
36
In Stock

---

Input Parameters

Required Beam Diameter at 1/e2 [mm]:

12

Beam Mode (SM/MM):

Single Mode TEM00 with M^2<1.5

Output Parameters

Full Angle at 1/e2 [mRad]:

0.36x1.80

Transfer Region [mRad]:

0.086x0.11

Transmission efficiency:

Close to 100%

ST-283-U-Y-A
1064
12
Rectangular
0.36x1.80
36
In Stock

---

Input Parameters

Required Beam Diameter at 1/e2 [mm]:

12

Beam Mode (SM/MM):

Single Mode TEM00 with M^2<1.5

Output Parameters

Full Angle at 1/e2 [mRad]:

0.36x1.80

Transfer Region [mRad]:

0.086x0.11

Transmission efficiency:

Close to 100%

ST-284-U-N-A
1064
12
Rectangular
0.36x2.10
36
In Stock

---

Input Parameters

Required Beam Diameter at 1/e2 [mm]:

12

Beam Mode (SM/MM):

Single Mode TEM00 with M^2<1.5

Output Parameters

Full Angle at 1/e2 [mRad]:

0.36x2.10

Transfer Region [mRad]:

0.086x0.12

Transmission efficiency:

Close to 100%

ST-284-U-Y-A
1064
12
Rectangular
0.36x2.10
36
In Stock

---

Input Parameters

Required Beam Diameter at 1/e2 [mm]:

12

Beam Mode (SM/MM):

Single Mode TEM00 with M^2<1.5

Output Parameters

Full Angle at 1/e2 [mRad]:

0.36x2.10

Transfer Region [mRad]:

0.086x0.12

Transmission efficiency:

Close to 100%

ST-285-U-N-A
1064
12
Rectangular
0.36x2.40
36
In Stock

---

Input Parameters

Required Beam Diameter at 1/e2 [mm]:

12

Beam Mode (SM/MM):

Single Mode TEM00 with M^2<1.5

Output Parameters

Full Angle at 1/e2 [mRad]:

0.36x2.40

Transfer Region [mRad]:

0.085x0.12

Transmission efficiency:

Close to 100%

ST-285-U-Y-A
1064
12
Rectangular
0.36x2.40
36
In Stock

---

Input Parameters

Required Beam Diameter at 1/e2 [mm]:

12

Beam Mode (SM/MM):

Single Mode TEM00 with M^2<1.5

Output Parameters

Full Angle at 1/e2 [mRad]:

0.36x2.40

Transfer Region [mRad]:

0.085x0.12

Transmission efficiency:

Close to 100%

ST-286-U-N-A
1064
12
Rectangular
0.35x2.70
35
In Stock

---

Input Parameters

Required Beam Diameter at 1/e2 [mm]:

12

Beam Mode (SM/MM):

Single Mode TEM00 with M^2<1.5

Output Parameters

Full Angle at 1/e2 [mRad]:

0.35x2.70

Transfer Region [mRad]:

0.083x0.1

Transmission efficiency:

Close to 100%

ST-286-U-Y-A
1064
12
Rectangular
0.35x2.70
35
In Stock

---

Input Parameters

Required Beam Diameter at 1/e2 [mm]:

12

Beam Mode (SM/MM):

Single Mode TEM00 with M^2<1.5

Output Parameters

Full Angle at 1/e2 [mRad]:

0.35x2.70

Transfer Region [mRad]:

0.083x0.1

Transmission efficiency:

Close to 100%

ST-287-U-N-A
1064
12
Rectangular
0.36x2.99
36
In Stock

---

Input Parameters

Required Beam Diameter at 1/e2 [mm]:

12

Beam Mode (SM/MM):

Single Mode TEM00 with M^2<1.5

Output Parameters

Full Angle at 1/e2 [mRad]:

0.36x2.99

Transfer Region [mRad]:

0.088x0.099

Transmission efficiency:

Close to 100%

ST-287-U-Y-A
1064
12
Rectangular
0.36x2.99
36
In Stock

---

Input Parameters

Required Beam Diameter at 1/e2 [mm]:

12

Beam Mode (SM/MM):

Single Mode TEM00 with M^2<1.5

Output Parameters

Full Angle at 1/e2 [mRad]:

0.36x2.99

Transfer Region [mRad]:

0.088x0.099

Transmission efficiency:

Close to 100%

ST-288-U-N-A
1064
12
Rectangular
0.36x3.30
36
In Stock

---

Input Parameters

Required Beam Diameter at 1/e2 [mm]:

12

Beam Mode (SM/MM):

Single Mode TEM00 with M^2<1.5

Output Parameters

Full Angle at 1/e2 [mRad]:

0.36x3.30

Transfer Region [mRad]:

0.086x0.12

Transmission efficiency:

Close to 100%

ST-288-U-Y-A
1064
12
Rectangular
0.36x3.30
36
In Stock

---

Input Parameters

Required Beam Diameter at 1/e2 [mm]:

12

Beam Mode (SM/MM):

Single Mode TEM00 with M^2<1.5

Output Parameters

Full Angle at 1/e2 [mRad]:

0.36x3.30

Transfer Region [mRad]:

0.086x0.12

Transmission efficiency:

Close to 100%

ST-289-I-N-A
1064
3.5
Round
0.596
59.6
In Stock
Small TH

---

Input Parameters

Required Beam Diameter at 1/e2 [mm]:

3.5

Beam Mode (SM/MM):

Single Mode TEM00 with M^2<1.5

Output Parameters

Full Angle at 1/e2 [mRad]:

0.596

Transfer Region [mRad]:

0.14

Transmission efficiency:

Close to 100%

Uniformity (contrast):

< 5

ST-289-I-Y-A
1064
3.5
Round
0.596
59.6
6 weeks
Small TH

---

Input Parameters

Required Beam Diameter at 1/e2 [mm]:

3.5

Beam Mode (SM/MM):

Single Mode TEM00 with M^2<1.5

Output Parameters

Full Angle at 1/e2 [mRad]:

0.596

Transfer Region [mRad]:

0.14

Transmission efficiency:

Close to 100%

Uniformity (contrast):

< 5

ST-290-I-N-A
1064
3.5
Square
0.596
59.6
In Stock
Small TH

---

Input Parameters

Required Beam Diameter at 1/e2 [mm]:

3.5

Beam Mode (SM/MM):

Single Mode TEM00 with M^2<1.5

Output Parameters

Full Angle at 1/e2 [mRad]:

0.596

Transfer Region [mRad]:

0.14

Transmission efficiency:

Close to 100%

Uniformity (contrast):

< 5

ST-290-I-Y-A
1064
3.5
Square
0.596
59.6
6 weeks
Small TH

---

Input Parameters

Required Beam Diameter at 1/e2 [mm]:

3.5

Beam Mode (SM/MM):

Single Mode TEM00 with M^2<1.5

Output Parameters

Full Angle at 1/e2 [mRad]:

0.596

Transfer Region [mRad]:

0.14

Transmission efficiency:

Close to 100%

Uniformity (contrast):

< 5

ST-291-I-N-A
1064
2
Square
1.02
102
In Stock
Small TH

---

Input Parameters

Required Beam Diameter at 1/e2 [mm]:

2

Beam Mode (SM/MM):

Single Mode TEM00 with M^2<1.5

Output Parameters

Full Angle at 1/e2 [mRad]:

1.02

Transfer Region [mRad]:

0.25

Transmission efficiency:

Close to 100%

Uniformity (contrast):

< 5

ST-291-I-Y-A
1064
2
Square
1.02
102
In Stock
Small TH

---

Input Parameters

Required Beam Diameter at 1/e2 [mm]:

2

Beam Mode (SM/MM):

Single Mode TEM00 with M^2<1.5

Output Parameters

Full Angle at 1/e2 [mRad]:

1.02

Transfer Region [mRad]:

0.25

Transmission efficiency:

Close to 100%

Uniformity (contrast):

< 5

ST-292-I-N-A
1064
2.5
Square
0.815
81.5
In Stock
Small TH

---

Input Parameters

Required Beam Diameter at 1/e2 [mm]:

2.5

Beam Mode (SM/MM):

Single Mode TEM00 with M^2<1.5

Output Parameters

Full Angle at 1/e2 [mRad]:

0.815

Transfer Region [mRad]:

0.2

Transmission efficiency:

Close to 100%

Uniformity (contrast):

< 5

ST-292-I-Y-A
1064
2.5
Square
0.815
81.5
6 weeks
Small TH

---

Input Parameters

Required Beam Diameter at 1/e2 [mm]:

2.5

Beam Mode (SM/MM):

Single Mode TEM00 with M^2<1.5

Output Parameters

Full Angle at 1/e2 [mRad]:

0.815

Transfer Region [mRad]:

0.2

Transmission efficiency:

Close to 100%

Uniformity (contrast):

< 5

ST-293-I-N-A
1064
3
Square
0.678
67.8
In Stock
Small TH

---

Input Parameters

Required Beam Diameter at 1/e2 [mm]:

3

Beam Mode (SM/MM):

Single Mode TEM00 with M^2<1.5

Output Parameters

Full Angle at 1/e2 [mRad]:

0.678

Transfer Region [mRad]:

0.17

Transmission efficiency:

Close to 100%

Uniformity (contrast):

< 5

ST-293-I-Y-A
1064
3
Square
0.678
67.8
6 weeks
Small TH

---

Input Parameters

Required Beam Diameter at 1/e2 [mm]:

3

Beam Mode (SM/MM):

Single Mode TEM00 with M^2<1.5

Output Parameters

Full Angle at 1/e2 [mRad]:

0.678

Transfer Region [mRad]:

0.17

Transmission efficiency:

Close to 100%

Uniformity (contrast):

< 5

ST-294-I-N-A
1064
2.5
Line
0.832
83.2
In Stock
Small TH

---

Input Parameters

Required Beam Diameter at 1/e2 [mm]:

2.5

Beam Mode (SM/MM):

Single Mode TEM00 with M^2<1.5

Output Parameters

Full Angle at 1/e2 [mRad]:

0.832

Transfer Region [mRad]:

0.2

Transmission efficiency:

Close to 100%

Uniformity (contrast):

< 5

ST-294-I-Y-A
1064
2.5
Line
0.832
83.2
6 weeks
Small TH

---

Input Parameters

Required Beam Diameter at 1/e2 [mm]:

2.5

Beam Mode (SM/MM):

Single Mode TEM00 with M^2<1.5

Output Parameters

Full Angle at 1/e2 [mRad]:

0.832

Transfer Region [mRad]:

0.2

Transmission efficiency:

Close to 100%

Uniformity (contrast):

< 5

ST-295-I-N-A
1064
3.5
Line
0.594
59.4
In Stock
Small TH

---

Input Parameters

Required Beam Diameter at 1/e2 [mm]:

3.5

Beam Mode (SM/MM):

Single Mode TEM00 with M^2<1.5

Output Parameters

Full Angle at 1/e2 [mRad]:

0.594

Transfer Region [mRad]:

0.14

Transmission efficiency:

Close to 100%

Uniformity (contrast):

< 5

ST-295-I-Y-A
1064
3.5
Line
0.594
59.4
6 weeks
Small TH

---

Input Parameters

Required Beam Diameter at 1/e2 [mm]:

3.5

Beam Mode (SM/MM):

Single Mode TEM00 with M^2<1.5

Output Parameters

Full Angle at 1/e2 [mRad]:

0.594

Transfer Region [mRad]:

0.14

Transmission efficiency:

Close to 100%

Uniformity (contrast):

< 5

ST-296-I-N-A
1064
4.5
Line
0.463
46.3
In Stock
Small TH

---

Input Parameters

Required Beam Diameter at 1/e2 [mm]:

4.5

Beam Mode (SM/MM):

Single Mode TEM00 with M^2<1.5

Output Parameters

Full Angle at 1/e2 [mRad]:

0.463

Transfer Region [mRad]:

0.11

Transmission efficiency:

Close to 100%

Uniformity (contrast):

< 5

ST-296-I-Y-A
1064
4.5
Line
0.463
46.3
6 weeks
Small TH

---

Input Parameters

Required Beam Diameter at 1/e2 [mm]:

4.5

Beam Mode (SM/MM):

Single Mode TEM00 with M^2<1.5

Output Parameters

Full Angle at 1/e2 [mRad]:

0.463

Transfer Region [mRad]:

0.11

Transmission efficiency:

Close to 100%

Uniformity (contrast):

< 5

ST-297-I-N-A
1064
2.5
Round
0.837
83.7
In Stock
Small TH

---

Input Parameters

Required Beam Diameter at 1/e2 [mm]:

2.5

Beam Mode (SM/MM):

Single Mode TEM00 with M^2<1.5

Output Parameters

Full Angle at 1/e2 [mRad]:

0.837

Transfer Region [mRad]:

0.19

Transmission efficiency:

Close to 100%

Uniformity (contrast):

< 5

ST-297-I-Y-A
1064
2.5
Round
0.837
83.7
In Stock
Small TH

---

Input Parameters

Required Beam Diameter at 1/e2 [mm]:

2.5

Beam Mode (SM/MM):

Single Mode TEM00 with M^2<1.5

Output Parameters

Full Angle at 1/e2 [mRad]:

0.837

Transfer Region [mRad]:

0.19

Transmission efficiency:

Close to 100%

Uniformity (contrast):

< 5

ST-298-I-N-A
1064
4.5
Round
0.466
46.6
In Stock
Small TH

---

Input Parameters

Required Beam Diameter at 1/e2 [mm]:

4.5

Beam Mode (SM/MM):

Single Mode TEM00 with M^2<1.5

Output Parameters

Full Angle at 1/e2 [mRad]:

0.466

Transfer Region [mRad]:

0.11

Transmission efficiency:

Close to 100%

Uniformity (contrast):

< 5

ST-298-I-Y-A
1064
4.5
Round
0.466
46.6
6 weeks
Small TH

---

Input Parameters

Required Beam Diameter at 1/e2 [mm]:

4.5

Beam Mode (SM/MM):

Single Mode TEM00 with M^2<1.5

Output Parameters

Full Angle at 1/e2 [mRad]:

0.466

Transfer Region [mRad]:

0.11

Transmission efficiency:

Close to 100%

Uniformity (contrast):

< 5

ST-299-I-N-A
1064
5.7
Round
0.367
36.7
In Stock
Small TH

---

Input Parameters

Required Beam Diameter at 1/e2 [mm]:

5.7

Beam Mode (SM/MM):

Single Mode TEM00 with M^2<1.5

Output Parameters

Full Angle at 1/e2 [mRad]:

0.367

Transfer Region [mRad]:

0.1

Transmission efficiency:

Close to 100%

Uniformity (contrast):

< 5

ST-299-I-Y-A
1064
5.7
Round
0.367
36.7
6 weeks
Small TH

---

Input Parameters

Required Beam Diameter at 1/e2 [mm]:

5.7

Beam Mode (SM/MM):

Single Mode TEM00 with M^2<1.5

Output Parameters

Full Angle at 1/e2 [mRad]:

0.367

Transfer Region [mRad]:

0.1

Transmission efficiency:

Close to 100%

Uniformity (contrast):

< 5

ST-300-I-N-A
1064
5.7
Round
0.487
48.7
In Stock
Small TH

---

Input Parameters

Required Beam Diameter at 1/e2 [mm]:

5.7

Beam Mode (SM/MM):

Single Mode TEM00 with M^2<1.5

Output Parameters

Full Angle at 1/e2 [mRad]:

0.487

Transfer Region [mRad]:

0.11

Transmission efficiency:

Close to 100%

Uniformity (contrast):

< 5

ST-300-I-Y-A
1064
5.7
Round
0.487
48.7
6 weeks
Small TH

---

Input Parameters

Required Beam Diameter at 1/e2 [mm]:

5.7

Beam Mode (SM/MM):

Single Mode TEM00 with M^2<1.5

Output Parameters

Full Angle at 1/e2 [mRad]:

0.487

Transfer Region [mRad]:

0.11

Transmission efficiency:

Close to 100%

Uniformity (contrast):

< 5

ST-302-I-N-A
1064
5.7
Round
0.367
36.7
In Stock
Small TH

---

Input Parameters

Required Beam Diameter at 1/e2 [mm]:

5.7

Beam Mode (SM/MM):

Single Mode TEM00 with M^2<1.5

Output Parameters

Full Angle at 1/e2 [mRad]:

0.367

Transfer Region [mRad]:

0.087

Transmission efficiency:

Close to 100%

Uniformity (contrast):

< 5

ST-302-I-Y-A
1064
5.7
Round
0.367
36.7
6 weeks
Small TH

---

Input Parameters

Required Beam Diameter at 1/e2 [mm]:

5.7

Beam Mode (SM/MM):

Single Mode TEM00 with M^2<1.5

Output Parameters

Full Angle at 1/e2 [mRad]:

0.367

Transfer Region [mRad]:

0.087

Transmission efficiency:

Close to 100%

Uniformity (contrast):

< 5

ST-303-I-N-A
1064
7.5
Round
0.278
27.8
In Stock
Small TH

---

Input Parameters

Required Beam Diameter at 1/e2 [mm]:

7.5

Beam Mode (SM/MM):

Single Mode TEM00 with M^2<1.5

Output Parameters

Full Angle at 1/e2 [mRad]:

0.278

Transfer Region [mRad]:

0.064

Transmission efficiency:

Close to 100%

Uniformity (contrast):

< 5

ST-303-I-Y-A
1064
7.5
Round
0.278
27.8
In Stock
Small TH

---

Input Parameters

Required Beam Diameter at 1/e2 [mm]:

7.5

Beam Mode (SM/MM):

Single Mode TEM00 with M^2<1.5

Output Parameters

Full Angle at 1/e2 [mRad]:

0.278

Transfer Region [mRad]:

0.064

Transmission efficiency:

Close to 100%

Uniformity (contrast):

< 5

ST-307-I-N-A
1064
1
Round
2.076
207.6
In Stock
Small TH

---

Input Parameters

Required Beam Diameter at 1/e2 [mm]:

1

Beam Mode (SM/MM):

Single Mode TEM00 with M^2<1.5

Output Parameters

Full Angle at 1/e2 [mRad]:

2.076

Transfer Region [mRad]:

0.48

Transmission efficiency:

Close to 100%

Uniformity (contrast):

< 5

ST-307-I-Y-A
1064
1
Round
2.076
207.6
6 weeks
Small TH

---

Input Parameters

Required Beam Diameter at 1/e2 [mm]:

1

Beam Mode (SM/MM):

Single Mode TEM00 with M^2<1.5

Output Parameters

Full Angle at 1/e2 [mRad]:

2.076

Transfer Region [mRad]:

0.48

Transmission efficiency:

Close to 100%

Uniformity (contrast):

< 5

ST-308-I-N-A
1064
1
Square
2.084
208.4
In Stock
Small TH

---

Input Parameters

Required Beam Diameter at 1/e2 [mm]:

1

Beam Mode (SM/MM):

Single Mode TEM00 with M^2<1.5

Output Parameters

Full Angle at 1/e2 [mRad]:

2.084

Transfer Region [mRad]:

0.49

Transmission efficiency:

Close to 100%

Uniformity (contrast):

< 5

ST-308-I-Y-A
1064
1
Square
2.084
208.4
6 weeks
Small TH

---

Input Parameters

Required Beam Diameter at 1/e2 [mm]:

1

Beam Mode (SM/MM):

Single Mode TEM00 with M^2<1.5

Output Parameters

Full Angle at 1/e2 [mRad]:

2.084

Transfer Region [mRad]:

0.49

Transmission efficiency:

Close to 100%

Uniformity (contrast):

< 5

ST-312-I-N-A
1064
1
Line
2.084
208.4
In Stock
Small TH

---

Input Parameters

Required Beam Diameter at 1/e2 [mm]:

1

Beam Mode (SM/MM):

Single Mode TEM00 with M^2<1.5

Output Parameters

Full Angle at 1/e2 [mRad]:

2.084

Transfer Region [mRad]:

0.49

Transmission efficiency:

Close to 100%

Uniformity (contrast):

< 5

ST-312-I-Y-A
1064
1
Line
2.084
208.4
6 weeks
Small TH

---

Input Parameters

Required Beam Diameter at 1/e2 [mm]:

1

Beam Mode (SM/MM):

Single Mode TEM00 with M^2<1.5

Output Parameters

Full Angle at 1/e2 [mRad]:

2.084

Transfer Region [mRad]:

0.49

Transmission efficiency:

Close to 100%

Uniformity (contrast):

< 5

ST-313-I-N-A
1064
1.5
Line
1.392
139.2
In Stock
Small TH

---

Input Parameters

Required Beam Diameter at 1/e2 [mm]:

1.5

Beam Mode (SM/MM):

Single Mode TEM00 with M^2<1.5

Output Parameters

Full Angle at 1/e2 [mRad]:

1.392

Transfer Region [mRad]:

0.33

Transmission efficiency:

Close to 100%

Uniformity (contrast):

< 5

ST-313-I-Y-A
1064
1.5
Line
1.392
139.2
6 weeks
Small TH

---

Input Parameters

Required Beam Diameter at 1/e2 [mm]:

1.5

Beam Mode (SM/MM):

Single Mode TEM00 with M^2<1.5

Output Parameters

Full Angle at 1/e2 [mRad]:

1.392

Transfer Region [mRad]:

0.33

Transmission efficiency:

Close to 100%

Uniformity (contrast):

< 5

ST-314-I-N-A
1064
1.5
Round
1.386
138.6
In Stock
Small TH

---

Input Parameters

Required Beam Diameter at 1/e2 [mm]:

1.5

Beam Mode (SM/MM):

Single Mode TEM00 with M^2<1.5

Output Parameters

Full Angle at 1/e2 [mRad]:

1.386

Transfer Region [mRad]:

0.32

Transmission efficiency:

Close to 100%

Uniformity (contrast):

< 5

ST-314-I-Y-A
1064
1.5
Round
1.386
138.6
6 weeks
Small TH

---

Input Parameters

Required Beam Diameter at 1/e2 [mm]:

1.5

Beam Mode (SM/MM):

Single Mode TEM00 with M^2<1.5

Output Parameters

Full Angle at 1/e2 [mRad]:

1.386

Transfer Region [mRad]:

0.32

Transmission efficiency:

Close to 100%

Uniformity (contrast):

< 5

ST-315-I-N-A
1064
1.5
Square
1.392
139.2
In Stock
Small TH

---

Input Parameters

Required Beam Diameter at 1/e2 [mm]:

1.5

Beam Mode (SM/MM):

Single Mode TEM00 with M^2<1.5

Output Parameters

Full Angle at 1/e2 [mRad]:

1.392

Transfer Region [mRad]:

0.33

Transmission efficiency:

Close to 100%

Uniformity (contrast):

< 5

ST-315-I-Y-A
1064
1.5
Square
1.392
139.2
6 weeks
Small TH

---

Input Parameters

Required Beam Diameter at 1/e2 [mm]:

1.5

Beam Mode (SM/MM):

Single Mode TEM00 with M^2<1.5

Output Parameters

Full Angle at 1/e2 [mRad]:

1.392

Transfer Region [mRad]:

0.33

Transmission efficiency:

Close to 100%

Uniformity (contrast):

< 5

ST-316-I-N-A
1064
5
Square
0.416
41.6
In Stock
Small TH

---

Input Parameters

Required Beam Diameter at 1/e2 [mm]:

5

Beam Mode (SM/MM):

Single Mode TEM00 with M^2<1.5

Output Parameters

Full Angle at 1/e2 [mRad]:

0.416

Transfer Region [mRad]:

0.098

Transmission efficiency:

Close to 100%

Uniformity (contrast):

< 5

ST-316-I-Y-A
1064
5
Square
0.416
41.6
6 weeks
Small TH

---

Input Parameters

Required Beam Diameter at 1/e2 [mm]:

5

Beam Mode (SM/MM):

Single Mode TEM00 with M^2<1.5

Output Parameters

Full Angle at 1/e2 [mRad]:

0.416

Transfer Region [mRad]:

0.098

Transmission efficiency:

Close to 100%

Uniformity (contrast):

< 5

ST-317-I-N-A
1064
12
Rectangular
1.21x0.37
121
In Stock
positive TH

---

Input Parameters

Required Beam Diameter at 1/e2 [mm]:

12

Beam Mode (SM/MM):

Single Mode TEM00 with M^2<1.5

Output Parameters

Full Angle at 1/e2 [mRad]:

1.21x0.37

Transfer Region [mRad]:

0.097x0.08

Transmission efficiency:

Close to 100%

ST-317-I-Y-A
1064
12
Rectangular
1.21x0.37
121
8 weeks
positive TH

---

Input Parameters

Required Beam Diameter at 1/e2 [mm]:

12

Beam Mode (SM/MM):

Single Mode TEM00 with M^2<1.5

Output Parameters

Full Angle at 1/e2 [mRad]:

1.21x0.37

Transfer Region [mRad]:

0.097x0.08

Transmission efficiency:

Close to 100%

ST-318-I-N-A
1064
12
Rectangular
1.50x0.37
150
In Stock
positive TH

---

Input Parameters

Required Beam Diameter at 1/e2 [mm]:

12

Beam Mode (SM/MM):

Single Mode TEM00 with M^2<1.5

Output Parameters

Full Angle at 1/e2 [mRad]:

1.50x0.37

Transfer Region [mRad]:

0.086x0.086

Transmission efficiency:

Close to 100%

ST-318-I-Y-A
1064
12
Rectangular
1.50x0.37
150
8 weeks
positive TH

---

Input Parameters

Required Beam Diameter at 1/e2 [mm]:

12

Beam Mode (SM/MM):

Single Mode TEM00 with M^2<1.5

Output Parameters

Full Angle at 1/e2 [mRad]:

1.50x0.37

Transfer Region [mRad]:

0.086x0.086

Transmission efficiency:

Close to 100%

ST-319-I-N-A
1064
12
Rectangular
1.79x0.37
179
In Stock
positive TH

---

Input Parameters

Required Beam Diameter at 1/e2 [mm]:

12

Beam Mode (SM/MM):

Single Mode TEM00 with M^2<1.5

Output Parameters

Full Angle at 1/e2 [mRad]:

1.79x0.37

Transfer Region [mRad]:

0.1x0.087

Transmission efficiency:

Close to 100%

ST-319-I-Y-A
1064
12
Rectangular
1.79x0.37
179
8 weeks
positive TH

---

Input Parameters

Required Beam Diameter at 1/e2 [mm]:

12

Beam Mode (SM/MM):

Single Mode TEM00 with M^2<1.5

Output Parameters

Full Angle at 1/e2 [mRad]:

1.79x0.37

Transfer Region [mRad]:

0.1x0.087

Transmission efficiency:

Close to 100%

ST-320-I-N-A
1064
20
Round
0.10447
10.447
In Stock
Small TH

---

Input Parameters

Required Beam Diameter at 1/e2 [mm]:

20

Beam Mode (SM/MM):

Single Mode TEM00 with M^2<1.5

Output Parameters

Full Angle at 1/e2 [mRad]:

0.10447

Transfer Region [mRad]:

0.024

Transmission efficiency:

Close to 100%

Uniformity (contrast):

< 5

ST-320-I-Y-A
1064
20
Round
0.10447
10.447
6 weeks
Small TH

---

Input Parameters

Required Beam Diameter at 1/e2 [mm]:

20

Beam Mode (SM/MM):

Single Mode TEM00 with M^2<1.5

Output Parameters

Full Angle at 1/e2 [mRad]:

0.10447

Transfer Region [mRad]:

0.024

Transmission efficiency:

Close to 100%

Uniformity (contrast):

< 5

ST-321-I-N-A
1064
7
Round
0.456
45.6
In Stock

---

Input Parameters

Required Beam Diameter at 1/e2 [mm]:

7

Beam Mode (SM/MM):

Single Mode TEM00 with M^2<1.5

Output Parameters

Full Angle at 1/e2 [mRad]:

0.456

Transfer Region [mRad]:

0.13

Transmission efficiency:

Close to 100%

ST-321-I-Y-A
1064
7
Round
0.456
45.6
In Stock

---

Input Parameters

Required Beam Diameter at 1/e2 [mm]:

7

Beam Mode (SM/MM):

Single Mode TEM00 with M^2<1.5

Output Parameters

Full Angle at 1/e2 [mRad]:

0.456

Transfer Region [mRad]:

0.13

Transmission efficiency:

Close to 100%

ST-323-I-N-A
1064
6
Square
0.91825
91.825
In Stock

---

Input Parameters

Required Beam Diameter at 1/e2 [mm]:

6

Beam Mode (SM/MM):

Single Mode TEM00 with M^2<1.5

Output Parameters

Full Angle at 1/e2 [mRad]:

0.91825

Transfer Region [mRad]:

0.081

Transmission efficiency:

Close to 100%

ST-323-I-Y-A
1064
6
Square
0.91825
91.825
7 weeks

---

Input Parameters

Required Beam Diameter at 1/e2 [mm]:

6

Beam Mode (SM/MM):

Single Mode TEM00 with M^2<1.5

Output Parameters

Full Angle at 1/e2 [mRad]:

0.91825

Transfer Region [mRad]:

0.081

Transmission efficiency:

Close to 100%

ST-324-I-N-A
1064
7
Square
0.8452
84.52
In Stock

---

Input Parameters

Required Beam Diameter at 1/e2 [mm]:

7

Beam Mode (SM/MM):

Single Mode TEM00 with M^2<1.5

Output Parameters

Full Angle at 1/e2 [mRad]:

0.8452

Transfer Region [mRad]:

0.094

Transmission efficiency:

Close to 100%

ST-324-I-Y-A
1064
7
Square
0.8452
84.52
7 weeks

---

Input Parameters

Required Beam Diameter at 1/e2 [mm]:

7

Beam Mode (SM/MM):

Single Mode TEM00 with M^2<1.5

Output Parameters

Full Angle at 1/e2 [mRad]:

0.8452

Transfer Region [mRad]:

0.094

Transmission efficiency:

Close to 100%

ST-326-I-N-A
1064
6
Square
0.807
80.7
In Stock

---

Input Parameters

Required Beam Diameter at 1/e2 [mm]:

6

Beam Mode (SM/MM):

Single Mode TEM00 with M^2<1.5

Output Parameters

Full Angle at 1/e2 [mRad]:

0.807

Transfer Region [mRad]:

0.088

Transmission efficiency:

Close to 100%

ST-326-I-Y-A
1064
6
Square
0.807
80.7
In Stock

---

Input Parameters

Required Beam Diameter at 1/e2 [mm]:

6

Beam Mode (SM/MM):

Single Mode TEM00 with M^2<1.5

Output Parameters

Full Angle at 1/e2 [mRad]:

0.807

Transfer Region [mRad]:

0.088

Transmission efficiency:

Close to 100%

ST-328-I-N-A
1064
10
Square
0.468
46.8
In Stock

---

Input Parameters

Required Beam Diameter at 1/e2 [mm]:

10

Beam Mode (SM/MM):

Single Mode TEM00 with M^2<1.5

Output Parameters

Full Angle at 1/e2 [mRad]:

0.468

Transfer Region [mRad]:

0.063

Transmission efficiency:

Close to 100%

ST-328-I-Y-A
1064
10
Square
0.468
46.8
7 weeks

---

Input Parameters

Required Beam Diameter at 1/e2 [mm]:

10

Beam Mode (SM/MM):

Single Mode TEM00 with M^2<1.5

Output Parameters

Full Angle at 1/e2 [mRad]:

0.468

Transfer Region [mRad]:

0.063

Transmission efficiency:

Close to 100%

ST-330-I-N-A
1064
7
Rectangular
1.03x0.79
103
In Stock

---

Input Parameters

Required Beam Diameter at 1/e2 [mm]:

7

Beam Mode (SM/MM):

Single Mode TEM00 with M^2<1.5

Output Parameters

Full Angle at 1/e2 [mRad]:

1.03x0.79

Transfer Region [mRad]:

0.11x0.11

Transmission efficiency:

Close to 100%

ST-330-I-Y-A
1064
7
Rectangular
1.03x0.79
103
8 weeks

---

Input Parameters

Required Beam Diameter at 1/e2 [mm]:

7

Beam Mode (SM/MM):

Single Mode TEM00 with M^2<1.5

Output Parameters

Full Angle at 1/e2 [mRad]:

1.03x0.79

Transfer Region [mRad]:

0.11x0.11

Transmission efficiency:

Close to 100%

ST-331-I-N-A
1064
7
Rectangular
1.26x0.79
126
In Stock

---

Input Parameters

Required Beam Diameter at 1/e2 [mm]:

7

Beam Mode (SM/MM):

Single Mode TEM00 with M^2<1.5

Output Parameters

Full Angle at 1/e2 [mRad]:

1.26x0.79

Transfer Region [mRad]:

0.12x0.11

Transmission efficiency:

Close to 100%

ST-331-I-Y-A
1064
7
Rectangular
1.26x0.79
126
8 weeks

---

Input Parameters

Required Beam Diameter at 1/e2 [mm]:

7

Beam Mode (SM/MM):

Single Mode TEM00 with M^2<1.5

Output Parameters

Full Angle at 1/e2 [mRad]:

1.26x0.79

Transfer Region [mRad]:

0.12x0.11

Transmission efficiency:

Close to 100%

ST-334-I-N-A
1064
7
Square
0.92466
92.466
In Stock

---

Input Parameters

Required Beam Diameter at 1/e2 [mm]:

7

Beam Mode (SM/MM):

Single Mode TEM00 with M^2<1.5

Output Parameters

Full Angle at 1/e2 [mRad]:

0.92466

Transfer Region [mRad]:

0.1

Transmission efficiency:

Close to 100%

ST-334-I-Y-A
1064
7
Square
0.92466
92.466
7 weeks

---

Input Parameters

Required Beam Diameter at 1/e2 [mm]:

7

Beam Mode (SM/MM):

Single Mode TEM00 with M^2<1.5

Output Parameters

Full Angle at 1/e2 [mRad]:

0.92466

Transfer Region [mRad]:

0.1

Transmission efficiency:

Close to 100%

ST-335-I-N-A
1064
6
Round
1
100
In Stock
Optimized 1064nm

---

Input Parameters

Required Beam Diameter at 1/e2 [mm]:

6

Beam Mode (SM/MM):

Single Mode TEM00 with M^2<1.5

Output Parameters

Full Angle at 1/e2 [mRad]:

1

Transfer Region [mRad]:

0.12

Transmission efficiency:

Close to 100%

ST-335-I-Y-A
1064
6
Round
1
100
7 weeks
Optimized 1064nm

---

Input Parameters

Required Beam Diameter at 1/e2 [mm]:

6

Beam Mode (SM/MM):

Single Mode TEM00 with M^2<1.5

Output Parameters

Full Angle at 1/e2 [mRad]:

1

Transfer Region [mRad]:

0.12

Transmission efficiency:

Close to 100%

ST-336-I-N-A
1064
4
Round
1.9755
197.55
In Stock

---

Input Parameters

Required Beam Diameter at 1/e2 [mm]:

4

Beam Mode (SM/MM):

Single Mode TEM00 with M^2<1.5

Output Parameters

Full Angle at 1/e2 [mRad]:

1.9755

Transfer Region [mRad]:

0.16

Transmission efficiency:

Close to 100%

ST-336-I-Y-A
1064
4
Round
1.9755
197.55
7 weeks

---

Input Parameters

Required Beam Diameter at 1/e2 [mm]:

4

Beam Mode (SM/MM):

Single Mode TEM00 with M^2<1.5

Output Parameters

Full Angle at 1/e2 [mRad]:

1.9755

Transfer Region [mRad]:

0.16

Transmission efficiency:

Close to 100%

ST-337-I-N-A
1064
7
Round
0.297
29.7
In Stock
Small TH

---

Input Parameters

Required Beam Diameter at 1/e2 [mm]:

7

Beam Mode (SM/MM):

Single Mode TEM00 with M^2<1.5

Output Parameters

Full Angle at 1/e2 [mRad]:

0.297

Transfer Region [mRad]:

0.068

Transmission efficiency:

Close to 100%

Uniformity (contrast):

< 5

ST-337-I-Y-A
1064
7
Round
0.297
29.7
6 weeks
Small TH

---

Input Parameters

Required Beam Diameter at 1/e2 [mm]:

7

Beam Mode (SM/MM):

Single Mode TEM00 with M^2<1.5

Output Parameters

Full Angle at 1/e2 [mRad]:

0.297

Transfer Region [mRad]:

0.068

Transmission efficiency:

Close to 100%

Uniformity (contrast):

< 5

ST-340-I-N-A
1064
7
Rectangular
0.46x0.71
46
In Stock

---

Input Parameters

Required Beam Diameter at 1/e2 [mm]:

7

Beam Mode (SM/MM):

Single Mode TEM00 with M^2<1.5

Output Parameters

Full Angle at 1/e2 [mRad]:

0.46x0.71

Transfer Region [mRad]:

0.1x0.11

Transmission efficiency:

Close to 100%

ST-340-I-Y-A
1064
7
Rectangular
0.46x0.71
46
8 weeks

---

Input Parameters

Required Beam Diameter at 1/e2 [mm]:

7

Beam Mode (SM/MM):

Single Mode TEM00 with M^2<1.5

Output Parameters

Full Angle at 1/e2 [mRad]:

0.46x0.71

Transfer Region [mRad]:

0.1x0.11

Transmission efficiency:

Close to 100%

ST-342-I-N-A
1064
10
Square
0.40164
40.164
In Stock

---

Input Parameters

Required Beam Diameter at 1/e2 [mm]:

10

Beam Mode (SM/MM):

Single Mode TEM00 with M^2<1.5

Output Parameters

Full Angle at 1/e2 [mRad]:

0.40164

Transfer Region [mRad]:

0.072

Transmission efficiency:

Close to 100%

ST-342-I-Y-A
1064
10
Square
0.40164
40.164
7 weeks

---

Input Parameters

Required Beam Diameter at 1/e2 [mm]:

10

Beam Mode (SM/MM):

Single Mode TEM00 with M^2<1.5

Output Parameters

Full Angle at 1/e2 [mRad]:

0.40164

Transfer Region [mRad]:

0.072

Transmission efficiency:

Close to 100%

ST-343-I-N-A
1064
6
Square
0.72075
72.075
In Stock

---

Input Parameters

Required Beam Diameter at 1/e2 [mm]:

6

Beam Mode (SM/MM):

Single Mode TEM00 with M^2<1.5

Output Parameters

Full Angle at 1/e2 [mRad]:

0.72075

Transfer Region [mRad]:

0.11

Transmission efficiency:

Close to 100%

ST-343-I-Y-A
1064
6
Square
0.72075
72.075
7 weeks

---

Input Parameters

Required Beam Diameter at 1/e2 [mm]:

6

Beam Mode (SM/MM):

Single Mode TEM00 with M^2<1.5

Output Parameters

Full Angle at 1/e2 [mRad]:

0.72075

Transfer Region [mRad]:

0.11

Transmission efficiency:

Close to 100%

ST-344-I-N-A
1064
7
Square
0.8452
84.52
In Stock

---

Input Parameters

Required Beam Diameter at 1/e2 [mm]:

7

Beam Mode (SM/MM):

Single Mode TEM00 with M^2<1.5

Output Parameters

Full Angle at 1/e2 [mRad]:

0.8452

Transfer Region [mRad]:

0.094

Transmission efficiency:

Close to 100%

ST-344-I-Y-A
1064
7
Square
0.8452
84.52
7 weeks

---

Input Parameters

Required Beam Diameter at 1/e2 [mm]:

7

Beam Mode (SM/MM):

Single Mode TEM00 with M^2<1.5

Output Parameters

Full Angle at 1/e2 [mRad]:

0.8452

Transfer Region [mRad]:

0.094

Transmission efficiency:

Close to 100%

ST-345-I-N-A
1064
6
Square
0.8018
80.18
In Stock

---

Input Parameters

Required Beam Diameter at 1/e2 [mm]:

6

Beam Mode (SM/MM):

Single Mode TEM00 with M^2<1.5

Output Parameters

Full Angle at 1/e2 [mRad]:

0.8018

Transfer Region [mRad]:

0.086

Transmission efficiency:

Close to 100%

ST-345-I-Y-A
1064
6
Square
0.8018
80.18
7 weeks

---

Input Parameters

Required Beam Diameter at 1/e2 [mm]:

6

Beam Mode (SM/MM):

Single Mode TEM00 with M^2<1.5

Output Parameters

Full Angle at 1/e2 [mRad]:

0.8018

Transfer Region [mRad]:

0.086

Transmission efficiency:

Close to 100%

ST-347-I-N-A
1064
6
Square
0.668
66.8
In Stock

---

Input Parameters

Required Beam Diameter at 1/e2 [mm]:

6

Beam Mode (SM/MM):

Single Mode TEM00 with M^2<1.5

Output Parameters

Full Angle at 1/e2 [mRad]:

0.668

Transfer Region [mRad]:

0.12x0.12

Transmission efficiency:

Close to 100%

ST-347-I-Y-A
1064
6
Square
0.668
66.8
7 weeks

---

Input Parameters

Required Beam Diameter at 1/e2 [mm]:

6

Beam Mode (SM/MM):

Single Mode TEM00 with M^2<1.5

Output Parameters

Full Angle at 1/e2 [mRad]:

0.668

Transfer Region [mRad]:

0.12x0.12

Transmission efficiency:

Close to 100%

ST-349-I-N-A
1064
7
Square
0.771
77.1
In Stock

---

Input Parameters

Required Beam Diameter at 1/e2 [mm]:

7

Beam Mode (SM/MM):

Single Mode TEM00 with M^2<1.5

Output Parameters

Full Angle at 1/e2 [mRad]:

0.771

Transfer Region [mRad]:

0.087x0.087

Transmission efficiency:

Close to 100%

ST-349-I-Y-A
1064
7
Square
0.771
77.1
7 weeks

---

Input Parameters

Required Beam Diameter at 1/e2 [mm]:

7

Beam Mode (SM/MM):

Single Mode TEM00 with M^2<1.5

Output Parameters

Full Angle at 1/e2 [mRad]:

0.771

Transfer Region [mRad]:

0.087x0.087

Transmission efficiency:

Close to 100%

ST-350-I-N-A
1064
5
Rectangular
0.95x1.60
95
In Stock

---

Input Parameters

Required Beam Diameter at 1/e2 [mm]:

5

Beam Mode (SM/MM):

Single Mode TEM00 with M^2<1.5

Output Parameters

Full Angle at 1/e2 [mRad]:

0.95x1.60

Transfer Region [mRad]:

0.14x0.16

Transmission efficiency:

Close to 100%

ST-350-I-Y-A
1064
5
Rectangular
0.95x1.60
95
8 weeks

---

Input Parameters

Required Beam Diameter at 1/e2 [mm]:

5

Beam Mode (SM/MM):

Single Mode TEM00 with M^2<1.5

Output Parameters

Full Angle at 1/e2 [mRad]:

0.95x1.60

Transfer Region [mRad]:

0.14x0.16

Transmission efficiency:

Close to 100%

ST-359-I-N-A
1064
6
Rectangular
0.59x0.99
59
In Stock

---

Input Parameters

Required Beam Diameter at 1/e2 [mm]:

6

Beam Mode (SM/MM):

Single Mode TEM00 with M^2<1.5

Output Parameters

Full Angle at 1/e2 [mRad]:

0.59x0.99

Transfer Region [mRad]:

0.11x0.11

Transmission efficiency:

Close to 100%

ST-359-I-Y-A
1064
6
Rectangular
0.59x0.99
59
8 weeks

---

Input Parameters

Required Beam Diameter at 1/e2 [mm]:

6

Beam Mode (SM/MM):

Single Mode TEM00 with M^2<1.5

Output Parameters

Full Angle at 1/e2 [mRad]:

0.59x0.99

Transfer Region [mRad]:

0.11x0.11

Transmission efficiency:

Close to 100%

TH-002-I-N-A
1064
12
Square
2.4
240
In Stock

---

Input Parameters

Required Beam Diameter at 1/e2 [mm]:

12

Beam Mode (SM/MM):

Single Mode TEM00 with M^2<1.5

Output Parameters

Full Angle at 1/e2 [mRad]:

2.4

Transfer Region [mRad]:

0.1

Transmission efficiency:

Close to 100%

TH-002-I-Y-A
1064
12
Square
2.4
240
7 weeks

---

Input Parameters

Required Beam Diameter at 1/e2 [mm]:

12

Beam Mode (SM/MM):

Single Mode TEM00 with M^2<1.5

Output Parameters

Full Angle at 1/e2 [mRad]:

2.4

Transfer Region [mRad]:

0.1

Transmission efficiency:

Close to 100%

TH-015-I-N-A
1064
5.1
Line
14.5
1450
In Stock

---

Input Parameters

Required Beam Diameter at 1/e2 [mm]:

5.1

Beam Mode (SM/MM):

Single Mode TEM00 with M^2<1.5

Output Parameters

Full Angle at 1/e2 [mRad]:

14.5

Transfer Region [mRad]:

0.33

Transmission efficiency:

Close to 100%

TH-015-I-Y-A
1064
5.1
Line
14.5
1450
7 weeks

---

Input Parameters

Required Beam Diameter at 1/e2 [mm]:

5.1

Beam Mode (SM/MM):

Single Mode TEM00 with M^2<1.5

Output Parameters

Full Angle at 1/e2 [mRad]:

14.5

Transfer Region [mRad]:

0.33

Transmission efficiency:

Close to 100%

TH-105-I-N-A
1064
7.5
Round
0.539
53.9
In Stock

---

Input Parameters

Required Beam Diameter at 1/e2 [mm]:

7.5

Beam Mode (SM/MM):

Single Mode TEM00 with M^2<1.5

Output Parameters

Full Angle at 1/e2 [mRad]:

0.539

Transfer Region [mRad]:

0.13

Transmission efficiency:

Close to 100%

TH-105-I-Y-A
1064
7.5
Round
0.539
53.9
In Stock

---

Input Parameters

Required Beam Diameter at 1/e2 [mm]:

7.5

Beam Mode (SM/MM):

Single Mode TEM00 with M^2<1.5

Output Parameters

Full Angle at 1/e2 [mRad]:

0.539

Transfer Region [mRad]:

0.13

Transmission efficiency:

Close to 100%

TH-215-I-N-A
1064
6
Round
1
100
In Stock

---

Input Parameters

Required Beam Diameter at 1/e2 [mm]:

6

Beam Mode (SM/MM):

Single Mode TEM00 with M^2<1.5

Output Parameters

Full Angle at 1/e2 [mRad]:

1

Transfer Region [mRad]:

0.18

Transmission efficiency:

Close to 100%

TH-215-I-Y-A
1064
6
Round
1
100
7 weeks