2D Beam Splitter products
The Diffractive Beam Splitter (or dot generator) is a diffractive optical element used to split a single laser beam into several beams, each with the characteristics of the original beam (except for its power and angle of propagation). 
A diffractive beam splitter can generate either a 1-dimensional beam array (1xN) or a 2-dimensional beam matrix (MxN), depending on the diffractive pattern on the element. The diffractive beam splitter is used with monochromatic light such as a laser beam, and is designed for a specific wavelength and angle of separation between its output beams. Typical applications of Optical Beam Splitters include:
Laser scribing such as in solar cells or panels, Laser dicing, Laser perforation, Medical/aesthetic applications such as skin treatments, 3D sensing & projection. Read more about Multispot Beam Splitters in the application notes.
HOLO/OR offers an extensive selection of standard 2D beam splitters as listed below. If you can not find the exact spec required we can design custom elements with your specs as a part of our custom design and manufacturing capabilities.
For our list of standard 1D optical beam splitters press here.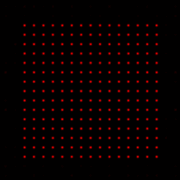 Please enter your laser wavelength and use the filter products below.
Moreover, for a quick quotation for products you see in the table, please check all the desired PNs at the last column of the table and click on the RFQ calculator icon at the column title.
Need shorter lead time? Lead time of uncoated DOE is 5 weeks shorter! Click here for questions.
PN
λ [nm]
Number
of
Spots
Separation
Angle
[deg]
θf [deg]
Availability
Remarks
Add to Quote
MS-025-I-N-A
1064
5x5
1.00x1.00
4.00x4.00
In Stock

---

Input Parameters

Beam Mode (SM/MM):

SM or MM

Minimum Beam Diameter [mm]:

>0.18

Output Parameters

Separation Angle [deg]:

1.00x1.00

Transmission efficiency:

Close to 100%

Uniformity (Contrast) [%]:

<8%

Zero - Order relative to
the average [%]:

0-100%

MS-025-I-Y-A
1064
5x5
1.00x1.00
4.00x4.00
7 weeks

---

Input Parameters

Beam Mode (SM/MM):

SM or MM

Minimum Beam Diameter [mm]:

>0.18

Output Parameters

Separation Angle [deg]:

1.00x1.00

Transmission efficiency:

Close to 100%

Uniformity (Contrast) [%]:

<8%

Zero - Order relative to
the average [%]:

0-100%

MS-027-I-N-A
1064
9x9
0.50x0.50
4.00x4.00
In Stock

---

Input Parameters

Beam Mode (SM/MM):

SM or MM

Minimum Beam Diameter [mm]:

>0.37

Output Parameters

Separation Angle [deg]:

0.50x0.50

Transmission efficiency:

Close to 100%

Uniformity (Contrast) [%]:

<13%

Zero - Order relative to
the average [%]:

0-100%

MS-027-I-Y-A
1064
9x9
0.50x0.50
4.00x4.00
7 weeks

---

Input Parameters

Beam Mode (SM/MM):

SM or MM

Minimum Beam Diameter [mm]:

>0.37

Output Parameters

Separation Angle [deg]:

0.50x0.50

Transmission efficiency:

Close to 100%

Uniformity (Contrast) [%]:

<13%

Zero - Order relative to
the average [%]:

0-100%

MS-030-A-N-A
10600
2x2
1.00x1.00
1.00x1.00
In Stock
High Efficiency

---

Input Parameters

Beam Mode (SM/MM):

SM or MM

Minimum Beam Diameter [mm]:

>0.36

Output Parameters

Separation Angle [deg]:

1.00x1.00

Transmission efficiency:

Close to 100%

Uniformity (Contrast) [%]:

<6%

Zero-Order relative to
the incident beam [%]:

<2%

MS-030-A-Y-A
10600
2x2
1.00x1.00
1.00x1.00
In Stock
High Efficiency

---

Input Parameters

Beam Mode (SM/MM):

SM or MM

Minimum Beam Diameter [mm]:

>0.36

Output Parameters

Separation Angle [deg]:

1.00x1.00

Transmission efficiency:

Close to 100%

Uniformity (Contrast) [%]:

<6%

Zero-Order relative to
the incident beam [%]:

<2%

MS-049-I-N-A
1064
7x7
0.70x0.70
4.21x4.21
In Stock

---

Input Parameters

Beam Mode (SM/MM):

SM or MM

Minimum Beam Diameter [mm]:

>0.26

Output Parameters

Separation Angle [deg]:

0.70x0.70

Transmission efficiency:

Close to 100%

Uniformity (Contrast) [%]:

<12%

Zero - Order relative to
the average [%]:

0-100%

MS-049-I-Y-A
1064
7x7
0.70x0.70
4.21x4.21
In Stock

---

Input Parameters

Beam Mode (SM/MM):

SM or MM

Minimum Beam Diameter [mm]:

>0.26

Output Parameters

Separation Angle [deg]:

0.70x0.70

Transmission efficiency:

Close to 100%

Uniformity (Contrast) [%]:

<12%

Zero - Order relative to
the average [%]:

0-100%

MS-202-I-N-A
1064
4x4
1.39x1.39
4.16x4.16
In Stock

---

Input Parameters

Beam Mode (SM/MM):

SM or MM

Minimum Beam Diameter [mm]:

>0.26

Output Parameters

Separation Angle [deg]:

1.39x1.39

Transmission efficiency:

Close to 100%

Uniformity (Contrast) [%]:

<2%

Zero-Order relative to
the incident beam [%]:

<1.5%

MS-202-I-Y-A
1064
4x4
1.39x1.39
4.16x4.16
In Stock

---

Input Parameters

Beam Mode (SM/MM):

SM or MM

Minimum Beam Diameter [mm]:

>0.26

Output Parameters

Separation Angle [deg]:

1.39x1.39

Transmission efficiency:

Close to 100%

Uniformity (Contrast) [%]:

<2%

Zero-Order relative to
the incident beam [%]:

<1.5%

MS-203-1-N-A
935
2x2
4.00x4.00
4.00x4.00
In Stock

---

Input Parameters

Beam Mode (SM/MM):

SM or MM

Minimum Beam Diameter [mm]:

>0.09

Output Parameters

Separation Angle [deg]:

4.00x4.00

Transmission efficiency:

Close to 100%

Uniformity (Contrast) [%]:

<2%

Zero-Order relative to
the incident beam [%]:

<1.5%

MS-203-1-Y-A
935
2x2
4.00x4.00
4.00x4.00
7 weeks

---

Input Parameters

Beam Mode (SM/MM):

SM or MM

Minimum Beam Diameter [mm]:

>0.09

Output Parameters

Separation Angle [deg]:

4.00x4.00

Transmission efficiency:

Close to 100%

Uniformity (Contrast) [%]:

<2%

Zero-Order relative to
the incident beam [%]:

<1.5%

MS-204-I-N-A
1064
2x2
0.25x0.25
0.25x0.25
In Stock

---

Input Parameters

Beam Mode (SM/MM):

SM or MM

Minimum Beam Diameter [mm]:

>1.46

Output Parameters

Separation Angle [deg]:

0.25x0.25

Transmission efficiency:

Close to 100%

Uniformity (Contrast) [%]:

<2%

Zero-Order relative to
the incident beam [%]:

<1%

MS-204-I-Y-A
1064
2x2
0.25x0.25
0.25x0.25
In Stock

---

Input Parameters

Beam Mode (SM/MM):

SM or MM

Minimum Beam Diameter [mm]:

>1.46

Output Parameters

Separation Angle [deg]:

0.25x0.25

Transmission efficiency:

Close to 100%

Uniformity (Contrast) [%]:

<2%

Zero-Order relative to
the incident beam [%]:

<1%

MS-211-I-N-A
1064
7x7
0.19x0.19
1.14x1.14
In Stock

---

Input Parameters

Beam Mode (SM/MM):

SM or MM

Minimum Beam Diameter [mm]:

>0.96

Output Parameters

Separation Angle [deg]:

0.19x0.19

Transmission efficiency:

Close to 100%

Uniformity (Contrast) [%]:

<5%

Zero - Order relative to
the average [%]:

0-100%

MS-211-I-Y-A
1064
7x7
0.19x0.19
1.14x1.14
In Stock

---

Input Parameters

Beam Mode (SM/MM):

SM or MM

Minimum Beam Diameter [mm]:

>0.96

Output Parameters

Separation Angle [deg]:

0.19x0.19

Transmission efficiency:

Close to 100%

Uniformity (Contrast) [%]:

<5%

Zero - Order relative to
the average [%]:

0-100%

MS-212-I-N-X
1064
15x15
0.50x0.50
7.00x7.00
In Stock

---

Input Parameters

Beam Mode (SM/MM):

SM or MM

Minimum Beam Diameter [mm]:

>0.37

Output Parameters

Separation Angle [deg]:

0.50x0.50

Transmission efficiency:

Close to 100%

Uniformity (Contrast) [%]:

<8%

Zero - Order relative to
the average [%]:

0-250%

MS-212-I-Y-X
1064
15x15
0.50x0.50
7.00x7.00
In Stock

---

Input Parameters

Beam Mode (SM/MM):

SM or MM

Minimum Beam Diameter [mm]:

>0.37

Output Parameters

Separation Angle [deg]:

0.50x0.50

Transmission efficiency:

Close to 100%

Uniformity (Contrast) [%]:

<8%

Zero - Order relative to
the average [%]:

0-250%

MS-215-I-N-A
1064
5x5
1.00x1.00
4.00x4.00
In Stock

---

Input Parameters

Beam Mode (SM/MM):

SM or MM

Minimum Beam Diameter [mm]:

>0.18

Output Parameters

Separation Angle [deg]:

1.00x1.00

Transmission efficiency:

Close to 100%

Uniformity (Contrast) [%]:

<8%

Zero - Order relative to
the average [%]:

0-100%

MS-215-I-Y-A
1064
5x5
1.00x1.00
4.00x4.00
In Stock

---

Input Parameters

Beam Mode (SM/MM):

SM or MM

Minimum Beam Diameter [mm]:

>0.18

Output Parameters

Separation Angle [deg]:

1.00x1.00

Transmission efficiency:

Close to 100%

Uniformity (Contrast) [%]:

<8%

Zero - Order relative to
the average [%]:

0-100%

MS-217-X-N-X
894
5x5
1.94x1.94
7.75x7.75
In Stock

---

Input Parameters

Beam Mode (SM/MM):

SM or MM

Minimum Beam Diameter [mm]:

>0.09

Output Parameters

Separation Angle [deg]:

1.94x1.94

Transmission efficiency:

Close to 100%

Uniformity (Contrast) [%]:

<20%

Zero - Order relative to
the average [%]:

0-350%

MS-217-X-Y-X
894
5x5
1.94x1.94
7.75x7.75
7 weeks

---

Input Parameters

Beam Mode (SM/MM):

SM or MM

Minimum Beam Diameter [mm]:

>0.09

Output Parameters

Separation Angle [deg]:

1.94x1.94

Transmission efficiency:

Close to 100%

Uniformity (Contrast) [%]:

<20%

Zero - Order relative to
the average [%]:

0-350%

MS-220-H-N-A
1320
5x5
1.39x1.39
5.54x5.54
In Stock

---

Input Parameters

Beam Mode (SM/MM):

SM or MM

Minimum Beam Diameter [mm]:

>0.13

Output Parameters

Separation Angle [deg]:

1.39x1.39

Transmission efficiency:

Close to 100%

Uniformity (Contrast) [%]:

<12%

Zero - Order relative to
the average [%]:

0-100%

MS-220-H-Y-A
1320
5x5
1.39x1.39
5.54x5.54
7 weeks

---

Input Parameters

Beam Mode (SM/MM):

SM or MM

Minimum Beam Diameter [mm]:

>0.13

Output Parameters

Separation Angle [deg]:

1.39x1.39

Transmission efficiency:

Close to 100%

Uniformity (Contrast) [%]:

<12%

Zero - Order relative to
the average [%]:

0-100%

MS-225-A-N-A
10600
9x9
0.12x0.12
0.96x0.96
In Stock

---

Input Parameters

Beam Mode (SM/MM):

SM or MM

Minimum Beam Diameter [mm]:

>1.52

Output Parameters

Separation Angle [deg]:

0.12x0.12

Transmission efficiency:

Close to 100%

Uniformity (Contrast) [%]:

<5%

Zero - Order relative to
the average [%]:

0-100%

MS-225-A-Y-A
10600
9x9
0.12x0.12
0.96x0.96
In Stock

---

Input Parameters

Beam Mode (SM/MM):

SM or MM

Minimum Beam Diameter [mm]:

>1.52

Output Parameters

Separation Angle [deg]:

0.12x0.12

Transmission efficiency:

Close to 100%

Uniformity (Contrast) [%]:

<5%

Zero - Order relative to
the average [%]:

0-100%

MS-229-X-N-A
10150
5x5
0.30x0.30
1.21x1.21
In Stock

---

Input Parameters

Beam Mode (SM/MM):

SM or MM

Minimum Beam Diameter [mm]:

>0.61

Output Parameters

Separation Angle [deg]:

0.30x0.30

Transmission efficiency:

Close to 100%

Uniformity (Contrast) [%]:

<4%

Zero - Order relative to
the average [%]:

0-100%

MS-229-X-Y-A
10150
5x5
0.30x0.30
1.21x1.21
8 weeks

---

Input Parameters

Beam Mode (SM/MM):

SM or MM

Minimum Beam Diameter [mm]:

>0.61

Output Parameters

Separation Angle [deg]:

0.30x0.30

Transmission efficiency:

Close to 100%

Uniformity (Contrast) [%]:

<4%

Zero - Order relative to
the average [%]:

0-100%

MS-231-H-N-X
1320
7
0.39
0.39
In Stock
hexagonal

---

Input Parameters

Beam Mode (SM/MM):

SM or MM

Minimum Beam Diameter [mm]:

>2.81

Output Parameters

Separation Angle [deg]:

0.39

Transmission efficiency:

Close to 100%

Uniformity (Contrast) [%]:

<1%

Zero - Order relative to
the average [%]:

90-110%

MS-231-H-Y-X
1320
7
0.39
0.39
7 weeks
hexagonal

---

Input Parameters

Beam Mode (SM/MM):

SM or MM

Minimum Beam Diameter [mm]:

>2.81

Output Parameters

Separation Angle [deg]:

0.39

Transmission efficiency:

Close to 100%

Uniformity (Contrast) [%]:

<1%

Zero - Order relative to
the average [%]:

90-110%

MS-232-A-N-A
10600
9x9
0.15x0.15
1.20x1.20
In Stock

---

Input Parameters

Beam Mode (SM/MM):

SM or MM

Minimum Beam Diameter [mm]:

>1.22

Output Parameters

Separation Angle [deg]:

0.15x0.15

Transmission efficiency:

Close to 100%

Uniformity (Contrast) [%]:

<5%

Zero - Order relative to
the average [%]:

0-100%

MS-232-A-Y-A
10600
9x9
0.15x0.15
1.20x1.20
8 weeks

---

Input Parameters

Beam Mode (SM/MM):

SM or MM

Minimum Beam Diameter [mm]:

>1.22

Output Parameters

Separation Angle [deg]:

0.15x0.15

Transmission efficiency:

Close to 100%

Uniformity (Contrast) [%]:

<5%

Zero - Order relative to
the average [%]:

0-100%

MS-236-N-N-A
755
5x5
2.68x2.68
10.73x10.73
In Stock

---

Input Parameters

Beam Mode (SM/MM):

SM or MM

Minimum Beam Diameter [mm]:

>0.07

Element Parameters

Clear Aperture [mm]:

9.9x9.9

Thickness [mm]:

1.524 or 2.29

Output Parameters

Separation Angle [deg]:

2.68x2.68

Transmission efficiency:

Close to 100%

Uniformity (Contrast) [%]:

<17%

Zero - Order relative to
the average [%]:

0-100%

MS-236-N-Y-A
755
5x5
2.68x2.68
10.73x10.73
7 weeks

---

Input Parameters

Beam Mode (SM/MM):

SM or MM

Minimum Beam Diameter [mm]:

>0.07

Element Parameters

Clear Aperture [mm]:

9.9x9.9

Thickness [mm]:

1.524 or 2.29

Output Parameters

Separation Angle [deg]:

2.68x2.68

Transmission efficiency:

Close to 100%

Uniformity (Contrast) [%]:

<17%

Zero - Order relative to
the average [%]:

0-100%

MS-238-N-N-X
755
7x7
2.11x2.11
12.69x12.69
In Stock

---

Input Parameters

Beam Mode (SM/MM):

SM or MM

Minimum Beam Diameter [mm]:

>0.09

Element Parameters

Clear Aperture [mm]:

9.9x9.9

Thickness [mm]:

1.524 or 2.29

Output Parameters

Separation Angle [deg]:

2.11x2.11

Transmission efficiency:

Close to 100%

Uniformity (Contrast) [%]:

<16%

Zero - Order relative to
the average [%]:

0-150%

MS-238-N-Y-X
755
7x7
2.11x2.11
12.69x12.69
7 weeks

---

Input Parameters

Beam Mode (SM/MM):

SM or MM

Minimum Beam Diameter [mm]:

>0.09

Element Parameters

Clear Aperture [mm]:

9.9x9.9

Thickness [mm]:

1.524 or 2.29

Output Parameters

Separation Angle [deg]:

2.11x2.11

Transmission efficiency:

Close to 100%

Uniformity (Contrast) [%]:

<16%

Zero - Order relative to
the average [%]:

0-150%

MS-241-M-N-A
780
8x8
1.09x1.09
7.64x7.64
In Stock

---

Input Parameters

Beam Mode (SM/MM):

SM or MM

Minimum Beam Diameter [mm]:

>0.34

Output Parameters

Separation Angle [deg]:

1.09x1.09

Transmission efficiency:

Close to 100%

Uniformity (Contrast) [%]:

<5%

Zero-Order relative to
the incident beam [%]:

<2%

MS-241-M-Y-A
780
8x8
1.09x1.09
7.64x7.64
7 weeks

---

Input Parameters

Beam Mode (SM/MM):

SM or MM

Minimum Beam Diameter [mm]:

>0.34

Output Parameters

Separation Angle [deg]:

1.09x1.09

Transmission efficiency:

Close to 100%

Uniformity (Contrast) [%]:

<5%

Zero-Order relative to
the incident beam [%]:

<2%

MS-246-Q-N-X
532
29x29
1.43x1.43
41.04x41.04
In Stock

---

Input Parameters

Beam Mode (SM/MM):

SM or MM

Minimum Beam Diameter [mm]:

>0.13

Element Parameters

Element Size [mm]:

25.7x25.7

Clear Aperture [mm]:

23.1x23.1

Thickness [mm]:

1.524 or 2.29

Output Parameters

Separation Angle [deg]:

1.43x1.43

Transmission efficiency:

Close to 100%

Uniformity (Contrast) [%]:

<50%

Zero - Order relative to
the average [%]:

0-3000%

MS-246-Q-Y-X
532
29x29
1.43x1.43
41.04x41.04
10 weeks

---

Input Parameters

Beam Mode (SM/MM):

SM or MM

Minimum Beam Diameter [mm]:

>0.13

Element Parameters

Element Size [mm]:

25.7x25.7

Clear Aperture [mm]:

23.1x23.1

Thickness [mm]:

1.524 or 2.29

Output Parameters

Separation Angle [deg]:

1.43x1.43

Transmission efficiency:

Close to 100%

Uniformity (Contrast) [%]:

<50%

Zero - Order relative to
the average [%]:

0-3000%

MS-249-X-N-A
3400
9x9
0.50x0.50
4.00x4.00
In Stock

---

Input Parameters

Beam Mode (SM/MM):

SM or MM

Minimum Beam Diameter [mm]:

>0.37

Output Parameters

Separation Angle [deg]:

0.50x0.50

Transmission efficiency:

Close to 100%

Uniformity (Contrast) [%]:

<13%

Zero - Order relative to
the average [%]:

0-100%

MS-249-X-Y-A
3400
9x9
0.50x0.50
4.00x4.00
8 weeks

---

Input Parameters

Beam Mode (SM/MM):

SM or MM

Minimum Beam Diameter [mm]:

>0.37

Output Parameters

Separation Angle [deg]:

0.50x0.50

Transmission efficiency:

Close to 100%

Uniformity (Contrast) [%]:

<13%

Zero - Order relative to
the average [%]:

0-100%

MS-250-J-N-X
1030
37
1.66
1.66
In Stock
hexagonal

---

Input Parameters

Beam Mode (SM/MM):

SM or MM

Minimum Beam Diameter [mm]:

>3.96

Output Parameters

Separation Angle [deg]:

1.66

Transmission efficiency:

Close to 100%

Uniformity (Contrast) [%]:

<13%

Zero - Order relative to
the average [%]:

70-130%

MS-250-J-Y-X
1030
37
1.66
1.66
7 weeks
hexagonal

---

Input Parameters

Beam Mode (SM/MM):

SM or MM

Minimum Beam Diameter [mm]:

>3.96

Output Parameters

Separation Angle [deg]:

1.66

Transmission efficiency:

Close to 100%

Uniformity (Contrast) [%]:

<13%

Zero - Order relative to
the average [%]:

70-130%

MS-254-D-N-A
2940
9x9
0.21x0.21
1.65x1.65
In Stock

---

Input Parameters

Beam Mode (SM/MM):

SM or MM

Minimum Beam Diameter [mm]:

>0.89

Output Parameters

Separation Angle [deg]:

0.21x0.21

Transmission efficiency:

Close to 100%

Uniformity (Contrast) [%]:

<6%

Zero - Order relative to
the average [%]:

0-100%

MS-254-D-Y-A
2940
9x9
0.21x0.21
1.65x1.65
In Stock

---

Input Parameters

Beam Mode (SM/MM):

SM or MM

Minimum Beam Diameter [mm]:

>0.89

Output Parameters

Separation Angle [deg]:

0.21x0.21

Transmission efficiency:

Close to 100%

Uniformity (Contrast) [%]:

<6%

Zero - Order relative to
the average [%]:

0-100%

MS-256-A-N-A
10600
7x7
0.19x0.19
1.14x1.14
In Stock

---

Input Parameters

Beam Mode (SM/MM):

SM or MM

Minimum Beam Diameter [mm]:

>0.96

Output Parameters

Separation Angle [deg]:

0.19x0.19

Transmission efficiency:

Close to 100%

Uniformity (Contrast) [%]:

<5%

Zero - Order relative to
the average [%]:

0-100%

MS-256-A-Y-A
10600
7x7
0.19x0.19
1.14x1.14
8 weeks

---

Input Parameters

Beam Mode (SM/MM):

SM or MM

Minimum Beam Diameter [mm]:

>0.96

Output Parameters

Separation Angle [deg]:

0.19x0.19

Transmission efficiency:

Close to 100%

Uniformity (Contrast) [%]:

<5%

Zero - Order relative to
the average [%]:

0-100%

MS-259-A-N-X
10600
9x9
0.12x0.12
0.96x0.96
In Stock

---

Input Parameters

Beam Mode (SM/MM):

SM or MM

Minimum Beam Diameter [mm]:

>1.52

Output Parameters

Separation Angle [deg]:

0.12x0.12

Transmission efficiency:

Close to 100%

Uniformity (Contrast) [%]:

<5%

Zero - Order relative to
the average [%]:

50-150%

MS-259-A-Y-X
10600
9x9
0.12x0.12
0.96x0.96
8 weeks

---

Input Parameters

Beam Mode (SM/MM):

SM or MM

Minimum Beam Diameter [mm]:

>1.52

Output Parameters

Separation Angle [deg]:

0.12x0.12

Transmission efficiency:

Close to 100%

Uniformity (Contrast) [%]:

<5%

Zero - Order relative to
the average [%]:

50-150%

MS-267-P-N-A
633
4x4
0.94x0.94
2.81x2.81
In Stock

---

Input Parameters

Beam Mode (SM/MM):

SM or MM

Minimum Beam Diameter [mm]:

>0.39

Output Parameters

Separation Angle [deg]:

0.94x0.94

Transmission efficiency:

Close to 100%

Uniformity (Contrast) [%]:

<1%

Zero-Order relative to
the incident beam [%]:

<1%

MS-267-P-Y-A
633
4x4
0.94x0.94
2.81x2.81
7 weeks

---

Input Parameters

Beam Mode (SM/MM):

SM or MM

Minimum Beam Diameter [mm]:

>0.39

Output Parameters

Separation Angle [deg]:

0.94x0.94

Transmission efficiency:

Close to 100%

Uniformity (Contrast) [%]:

<1%

Zero-Order relative to
the incident beam [%]:

<1%

MS-273-D-N-X
2940
7x7
0.70x0.70
4.21x4.21
In Stock

---

Input Parameters

Beam Mode (SM/MM):

SM or MM

Minimum Beam Diameter [mm]:

>0.26

Output Parameters

Separation Angle [deg]:

0.70x0.70

Transmission efficiency:

Close to 100%

Uniformity (Contrast) [%]:

<10%

Zero - Order relative to
the average [%]:

20-180%

MS-273-D-Y-X
2940
7x7
0.70x0.70
4.21x4.21

---

Input Parameters

Beam Mode (SM/MM):

SM or MM

Minimum Beam Diameter [mm]:

>0.26

Output Parameters

Separation Angle [deg]:

0.70x0.70

Transmission efficiency:

Close to 100%

Uniformity (Contrast) [%]:

<10%

Zero - Order relative to
the average [%]:

20-180%

MS-274-D-N-X
2940
9x9
0.50x0.50
4.00x4.00
In Stock

---

Input Parameters

Beam Mode (SM/MM):

SM or MM

Minimum Beam Diameter [mm]:

>0.37

Output Parameters

Separation Angle [deg]:

0.50x0.50

Transmission efficiency:

Close to 100%

Uniformity (Contrast) [%]:

<13%

Zero - Order relative to
the average [%]:

0-200%

MS-274-D-Y-X
2940
9x9
0.50x0.50
4.00x4.00

---

Input Parameters

Beam Mode (SM/MM):

SM or MM

Minimum Beam Diameter [mm]:

>0.37

Output Parameters

Separation Angle [deg]:

0.50x0.50

Transmission efficiency:

Close to 100%

Uniformity (Contrast) [%]:

<13%

Zero - Order relative to
the average [%]:

0-200%

MS-277-M-N-X
780
19x19
0.12x0.12
2.15x2.15
In Stock

---

Input Parameters

Beam Mode (SM/MM):

SM or MM

Minimum Beam Diameter [mm]:

>1.53

Output Parameters

Separation Angle [deg]:

0.12x0.12

Transmission efficiency:

Close to 100%

Uniformity (Contrast) [%]:

<26%

Zero - Order relative to
the average [%]:

0-350%

MS-277-M-Y-X
780
19x19
0.12x0.12
2.15x2.15
7 weeks

---

Input Parameters

Beam Mode (SM/MM):

SM or MM

Minimum Beam Diameter [mm]:

>1.53

Output Parameters

Separation Angle [deg]:

0.12x0.12

Transmission efficiency:

Close to 100%

Uniformity (Contrast) [%]:

<26%

Zero - Order relative to
the average [%]:

0-350%

MS-285-I-N-X
1064
3x3
1.27x1.27
2.54x2.54
In Stock

---

Input Parameters

Beam Mode (SM/MM):

SM or MM

Minimum Beam Diameter [mm]:

>0.14

Output Parameters

Separation Angle [deg]:

1.27x1.27

Transmission efficiency:

Close to 100%

Uniformity (Contrast) [%]:

<15%

Zero - Order relative to
the average [%]:

50-150%

MS-285-I-Y-X
1064
3x3
1.27x1.27
2.54x2.54
In Stock

---

Input Parameters

Beam Mode (SM/MM):

SM or MM

Minimum Beam Diameter [mm]:

>0.14

Output Parameters

Separation Angle [deg]:

1.27x1.27

Transmission efficiency:

Close to 100%

Uniformity (Contrast) [%]:

<15%

Zero - Order relative to
the average [%]:

50-150%

MS-286-I-N-A
1064
3x4
1.27x0.85
2.54x2.54
In Stock

---

Input Parameters

Beam Mode (SM/MM):

SM or MM

Minimum Beam Diameter [mm]:

>0.43

Output Parameters

Separation Angle [deg]:

1.27x0.85

Transmission efficiency:

Close to 100%

Uniformity (Contrast) [%]:

<1.5%

Zero-Order relative to
the incident beam [%]:

0-100%

MS-286-I-Y-A
1064
3x4
1.27x0.85
2.54x2.54
In Stock

---

Input Parameters

Beam Mode (SM/MM):

SM or MM

Minimum Beam Diameter [mm]:

>0.43

Output Parameters

Separation Angle [deg]:

1.27x0.85

Transmission efficiency:

Close to 100%

Uniformity (Contrast) [%]:

<1.5%

Zero-Order relative to
the incident beam [%]:

0-100%

MS-287-I-N-X
1064
3x5
1.27x0.64
2.54x2.54
In Stock

---

Input Parameters

Beam Mode (SM/MM):

SM or MM

Minimum Beam Diameter [mm]:

>0.29

Output Parameters

Separation Angle [deg]:

1.27x0.64

Transmission efficiency:

Close to 100%

Uniformity (Contrast) [%]:

<10%

Zero - Order relative to
the average [%]:

30-150%

MS-287-I-Y-X
1064
3x5
1.27x0.64
2.54x2.54
7 weeks

---

Input Parameters

Beam Mode (SM/MM):

SM or MM

Minimum Beam Diameter [mm]:

>0.29

Output Parameters

Separation Angle [deg]:

1.27x0.64

Transmission efficiency:

Close to 100%

Uniformity (Contrast) [%]:

<10%

Zero - Order relative to
the average [%]:

30-150%

MS-288-I-N-X
1064
3x7
1.27x0.42
2.54x2.54
In Stock

---

Input Parameters

Beam Mode (SM/MM):

SM or MM

Minimum Beam Diameter [mm]:

>0.43

Output Parameters

Separation Angle [deg]:

1.27x0.42

Transmission efficiency:

Close to 100%

Uniformity (Contrast) [%]:

<8%

Zero - Order relative to
the average [%]:

30-130%

MS-288-I-Y-X
1064
3x7
1.27x0.42
2.54x2.54
7 weeks

---

Input Parameters

Beam Mode (SM/MM):

SM or MM

Minimum Beam Diameter [mm]:

>0.43

Output Parameters

Separation Angle [deg]:

1.27x0.42

Transmission efficiency:

Close to 100%

Uniformity (Contrast) [%]:

<8%

Zero - Order relative to
the average [%]:

30-130%

MS-289-G-N-A
1550
5x5
2.20x2.20
8.80x8.80
In Stock

---

Input Parameters

Beam Mode (SM/MM):

SM or MM

Minimum Beam Diameter [mm]:

>0.08

Output Parameters

Separation Angle [deg]:

2.20x2.20

Transmission efficiency:

Close to 100%

Uniformity (Contrast) [%]:

<12%

Zero - Order relative to
the average [%]:

0-100%

MS-289-G-Y-A
1550
5x5
2.20x2.20
8.80x8.80
7 weeks

---

Input Parameters

Beam Mode (SM/MM):

SM or MM

Minimum Beam Diameter [mm]:

>0.08

Output Parameters

Separation Angle [deg]:

2.20x2.20

Transmission efficiency:

Close to 100%

Uniformity (Contrast) [%]:

<12%

Zero - Order relative to
the average [%]:

0-100%

MS-290-I-N-X
1064
5x5
2.61x2.61
10.45x10.45
In Stock

---

Input Parameters

Beam Mode (SM/MM):

SM or MM

Minimum Beam Diameter [mm]:

>0.07

Output Parameters

Separation Angle [deg]:

2.61x2.61

Transmission efficiency:

Close to 100%

Uniformity (Contrast) [%]:

<20%

Zero - Order relative to
the average [%]:

0-140%

MS-290-I-Y-X
1064
5x5
2.61x2.61
10.45x10.45
7 weeks

---

Input Parameters

Beam Mode (SM/MM):

SM or MM

Minimum Beam Diameter [mm]:

>0.07

Output Parameters

Separation Angle [deg]:

2.61x2.61

Transmission efficiency:

Close to 100%

Uniformity (Contrast) [%]:

<20%

Zero - Order relative to
the average [%]:

0-140%

MS-292-A-N-X
10600
9x9
0.0076x0.0076
0.061x0.061
In Stock
Frame

---

Input Parameters

Beam Mode (SM/MM):

SM or MM

Minimum Beam Diameter [mm]:

>23.98

Output Parameters

Separation Angle [deg]:

0.0076x0.0076

Transmission efficiency:

Close to 100%

Uniformity (Contrast) [%]:

<1%

Zero-Order relative to
the incident beam [%]:

<1%

MS-292-A-Y-X
10600
9x9
0.0076x0.0076
0.061x0.061
8 weeks
Frame

---

Input Parameters

Beam Mode (SM/MM):

SM or MM

Minimum Beam Diameter [mm]:

>23.98

Output Parameters

Separation Angle [deg]:

0.0076x0.0076

Transmission efficiency:

Close to 100%

Uniformity (Contrast) [%]:

<1%

Zero-Order relative to
the incident beam [%]:

<1%

MS-294-D-N-X
2940
3x3
0.36x0.36
0.72x0.72
In Stock

---

Input Parameters

Beam Mode (SM/MM):

SM or MM

Minimum Beam Diameter [mm]:

>0.51

Output Parameters

Separation Angle [deg]:

0.36x0.36

Transmission efficiency:

Close to 100%

Uniformity (Contrast) [%]:

<5%

Zero - Order relative to
the average [%]:

50-130%

MS-294-D-Y-X
2940
3x3
0.36x0.36
0.72x0.72

---

Input Parameters

Beam Mode (SM/MM):

SM or MM

Minimum Beam Diameter [mm]:

>0.51

Output Parameters

Separation Angle [deg]:

0.36x0.36

Transmission efficiency:

Close to 100%

Uniformity (Contrast) [%]:

<5%

Zero - Order relative to
the average [%]:

50-130%

MS-295-D-N-X
2940
9x9
0.50x0.50
4.00x4.00
In Stock

---

Input Parameters

Beam Mode (SM/MM):

SM or MM

Minimum Beam Diameter [mm]:

>0.37

Output Parameters

Separation Angle [deg]:

0.50x0.50

Transmission efficiency:

Close to 100%

Uniformity (Contrast) [%]:

<13%

Zero - Order relative to
the average [%]:

0-200%

MS-295-D-Y-X
2940
9x9
0.50x0.50
4.00x4.00
8 weeks

---

Input Parameters

Beam Mode (SM/MM):

SM or MM

Minimum Beam Diameter [mm]:

>0.37

Output Parameters

Separation Angle [deg]:

0.50x0.50

Transmission efficiency:

Close to 100%

Uniformity (Contrast) [%]:

<13%

Zero - Order relative to
the average [%]:

0-200%

MS-299-I-N-X
755
7x7
2.11x2.11
12.69x12.69
In Stock

---

Input Parameters

Beam Mode (SM/MM):

SM or MM

Minimum Beam Diameter [mm]:

>0.09

Output Parameters

Separation Angle [deg]:

2.11x2.11

Transmission efficiency:

Close to 100%

Uniformity (Contrast) [%]:

<30%

Zero - Order relative to
the average [%]:

0-300%

MS-299-I-Y-X
755
7x7
2.11x2.11
12.69x12.69
7 weeks

---

Input Parameters

Beam Mode (SM/MM):

SM or MM

Minimum Beam Diameter [mm]:

>0.09

Output Parameters

Separation Angle [deg]:

2.11x2.11

Transmission efficiency:

Close to 100%

Uniformity (Contrast) [%]:

<30%

Zero - Order relative to
the average [%]:

0-300%

MS-300-D-N-A
2940
8x8
0.57x0.57
3.98x3.98
In Stock

---

Input Parameters

Beam Mode (SM/MM):

SM or MM

Minimum Beam Diameter [mm]:

>0.64

Output Parameters

Separation Angle [deg]:

0.57x0.57

Transmission efficiency:

Close to 100%

Uniformity (Contrast) [%]:

<5%

Zero-Order relative to
the incident beam [%]:

<1.5%

MS-300-D-Y-A
2940
8x8
0.57x0.57
3.98x3.98
In Stock

---

Input Parameters

Beam Mode (SM/MM):

SM or MM

Minimum Beam Diameter [mm]:

>0.64

Output Parameters

Separation Angle [deg]:

0.57x0.57

Transmission efficiency:

Close to 100%

Uniformity (Contrast) [%]:

<5%

Zero-Order relative to
the incident beam [%]:

<1.5%

MS-303-I-N-A
1550
5x5
2.20x2.20
8.80x8.80
In Stock
with cut-off

---

Input Parameters

Beam Mode (SM/MM):

SM or MM

Minimum Beam Diameter [mm]:

>0.08

Output Parameters

Separation Angle [deg]:

2.20x2.20

Transmission efficiency:

Close to 100%

Uniformity (Contrast) [%]:

<12%

Zero - Order relative to
the average [%]:

0-100%

MS-303-I-Y-A
1550
5x5
2.20x2.20
8.80x8.80
7 weeks
with cut-off

---

Input Parameters

Beam Mode (SM/MM):

SM or MM

Minimum Beam Diameter [mm]:

>0.08

Output Parameters

Separation Angle [deg]:

2.20x2.20

Transmission efficiency:

Close to 100%

Uniformity (Contrast) [%]:

<12%

Zero - Order relative to
the average [%]:

0-100%

MS-305-I-N-X
1064
5x5
0.64x0.64
2.54x2.54
In Stock

---

Input Parameters

Beam Mode (SM/MM):

SM or MM

Minimum Beam Diameter [mm]:

>0.29

Output Parameters

Separation Angle [deg]:

0.64x0.64

Transmission efficiency:

Close to 100%

Uniformity (Contrast) [%]:

<6%

Zero - Order relative to
the average [%]:

40-150%

MS-305-I-Y-X
1064
5x5
0.64x0.64
2.54x2.54
In Stock

---

Input Parameters

Beam Mode (SM/MM):

SM or MM

Minimum Beam Diameter [mm]:

>0.29

Output Parameters

Separation Angle [deg]:

0.64x0.64

Transmission efficiency:

Close to 100%

Uniformity (Contrast) [%]:

<6%

Zero - Order relative to
the average [%]:

40-150%

MS-306-I-N-A
1064
5x6
0.64x0.51
2.54x2.54
In Stock

---

Input Parameters

Beam Mode (SM/MM):

SM or MM

Minimum Beam Diameter [mm]:

>0.72

Output Parameters

Separation Angle [deg]:

0.64x0.51

Transmission efficiency:

Close to 100%

Uniformity (Contrast) [%]:

<4%

Zero-Order relative to
the incident beam [%]:

0-100%

MS-306-I-Y-A
1064
5x6
0.64x0.51
2.54x2.54
In Stock

---

Input Parameters

Beam Mode (SM/MM):

SM or MM

Minimum Beam Diameter [mm]:

>0.72

Output Parameters

Separation Angle [deg]:

0.64x0.51

Transmission efficiency:

Close to 100%

Uniformity (Contrast) [%]:

<4%

Zero-Order relative to
the incident beam [%]:

0-100%

MS-319-X-N-A
400
2x2
13.58x13.58
13.58x13.58
In Stock

---

Input Parameters

Beam Mode (SM/MM):

SM or MM

Minimum Beam Diameter [mm]:

>0.03

Output Parameters

Separation Angle [deg]:

13.58x13.58

Transmission efficiency:

Close to 100%

Uniformity (Contrast) [%]:

<7%

Zero-Order relative to
the incident beam [%]:

<1%

MS-319-X-Y-A
400
2x2
13.58x13.58
13.58x13.58
7 weeks

---

Input Parameters

Beam Mode (SM/MM):

SM or MM

Minimum Beam Diameter [mm]:

>0.03

Output Parameters

Separation Angle [deg]:

13.58x13.58

Transmission efficiency:

Close to 100%

Uniformity (Contrast) [%]:

<7%

Zero-Order relative to
the incident beam [%]:

<1%

MS-321-K-N-X
980
5x5
3.23x3.23
12.95x12.95
In Stock

---

Input Parameters

Beam Mode (SM/MM):

SM or MM

Minimum Beam Diameter [mm]:

>0.06

Output Parameters

Separation Angle [deg]:

3.23x3.23

Transmission efficiency:

Close to 100%

Uniformity (Contrast) [%]:

<25%

Zero - Order relative to
the average [%]:

0-200%

MS-321-K-Y-X
980
5x5
3.23x3.23
12.95x12.95
7 weeks

---

Input Parameters

Beam Mode (SM/MM):

SM or MM

Minimum Beam Diameter [mm]:

>0.06

Output Parameters

Separation Angle [deg]:

3.23x3.23

Transmission efficiency:

Close to 100%

Uniformity (Contrast) [%]:

<25%

Zero - Order relative to
the average [%]:

0-200%

MS-324-I-N-X
850
5x5
3.81x2.87
15.29x11.49
In Stock

---

Input Parameters

Beam Mode (SM/MM):

SM or MM

Minimum Beam Diameter [mm]:

>0.06

Element Parameters

Element Size [mm]:

9.8x9.8

Clear Aperture [mm]:

8.8x8.8

Thickness [mm]:

1.524 or 2.29

Output Parameters

Separation Angle [deg]:

3.81x2.87

Transmission efficiency:

Close to 100%

Uniformity (Contrast) [%]:

<7%

Zero - Order relative to
the average [%]:

0-150%

MS-324-I-Y-X
850
5x5
3.81x2.87
15.29x11.49
7 weeks

---

Input Parameters

Beam Mode (SM/MM):

SM or MM

Minimum Beam Diameter [mm]:

>0.06

Element Parameters

Element Size [mm]:

9.8x9.8

Clear Aperture [mm]:

8.8x8.8

Thickness [mm]:

1.524 or 2.29

Output Parameters

Separation Angle [deg]:

3.81x2.87

Transmission efficiency:

Close to 100%

Uniformity (Contrast) [%]:

<7%

Zero - Order relative to
the average [%]:

0-150%

MS-325-I-N-A
850
4x4
5.08x3.81
15.29x11.45
In Stock

---

Input Parameters

Beam Mode (SM/MM):

SM or MM

Minimum Beam Diameter [mm]:

>0.10

Element Parameters

Element Size [mm]:

9.8x9.8

Clear Aperture [mm]:

8.8x8.8

Thickness [mm]:

1.524 or 2.29

Output Parameters

Separation Angle [deg]:

5.08x3.81

Transmission efficiency:

Close to 100%

Uniformity (Contrast) [%]:

<9%

Zero-Order relative to
the incident beam [%]:

<1%

MS-325-I-Y-A
850
4x4
5.08x3.81
15.29x11.45
10 weeks

---

Input Parameters

Beam Mode (SM/MM):

SM or MM

Minimum Beam Diameter [mm]:

>0.10

Element Parameters

Element Size [mm]:

9.8x9.8

Clear Aperture [mm]:

8.8x8.8

Thickness [mm]:

1.524 or 2.29

Output Parameters

Separation Angle [deg]:

5.08x3.81

Transmission efficiency:

Close to 100%

Uniformity (Contrast) [%]:

<9%

Zero-Order relative to
the incident beam [%]:

<1%

MS-326-I-N-X
850
3x3
7.64x5.75
15.29x11.49
In Stock

---

Input Parameters

Beam Mode (SM/MM):

SM or MM

Minimum Beam Diameter [mm]:

>0.03

Element Parameters

Element Size [mm]:

9.8x9.8

Clear Aperture [mm]:

8.8x8.8

Thickness [mm]:

1.524 or 2.29

Output Parameters

Separation Angle [deg]:

7.64x5.75

Transmission efficiency:

Close to 100%

Uniformity (Contrast) [%]:

<25%

Zero - Order relative to
the average [%]:

0-150%

MS-326-I-Y-X
850
3x3
7.64x5.75
15.29x11.49
7 weeks

---

Input Parameters

Beam Mode (SM/MM):

SM or MM

Minimum Beam Diameter [mm]:

>0.03

Element Parameters

Element Size [mm]:

9.8x9.8

Clear Aperture [mm]:

8.8x8.8

Thickness [mm]:

1.524 or 2.29

Output Parameters

Separation Angle [deg]:

7.64x5.75

Transmission efficiency:

Close to 100%

Uniformity (Contrast) [%]:

<25%

Zero - Order relative to
the average [%]:

0-150%

MS-328-X-N-L
850
19x13
0.85x0.95
15.26x11.47
In Stock
Cross MS

---

Input Parameters

Beam Mode (SM/MM):

SM or MM

Minimum Beam Diameter [mm]:

>0.22

Element Parameters

Element Size [mm]:

9.8x9.8

Clear Aperture [mm]:

8.8x8.8

Thickness [mm]:

1.524 or 2.29

Output Parameters

Separation Angle [deg]:

0.85x0.95

Transmission efficiency:

Close to 100%

Uniformity (Contrast) [%]:

<8%

Zero - Order relative to
the average [%]:

0-50%

MS-328-X-Y-L
850
19x13
0.85x0.95
15.26x11.47
10 weeks
Cross MS

---

Input Parameters

Beam Mode (SM/MM):

SM or MM

Minimum Beam Diameter [mm]:

>0.22

Element Parameters

Element Size [mm]:

9.8x9.8

Clear Aperture [mm]:

8.8x8.8

Thickness [mm]:

1.524 or 2.29

Output Parameters

Separation Angle [deg]:

0.85x0.95

Transmission efficiency:

Close to 100%

Uniformity (Contrast) [%]:

<8%

Zero - Order relative to
the average [%]:

0-50%

MS-337-Q-N-X
532
77
21.88
21.88
In Stock
MS X-Men

---

Input Parameters

Beam Mode (SM/MM):

SM or MM

Minimum Beam Diameter [mm]:

>0.64

Output Parameters

Separation Angle [deg]:

21.88

Transmission efficiency:

Close to 100%

Uniformity (Contrast) [%]:

<6%

Zero - Order relative to
the average [%]:

0-120%

MS-337-Q-Y-X
532
77
21.88
21.88
7 weeks
MS X-Men

---

Input Parameters

Beam Mode (SM/MM):

SM or MM

Minimum Beam Diameter [mm]:

>0.64

Output Parameters

Separation Angle [deg]:

21.88

Transmission efficiency:

Close to 100%

Uniformity (Contrast) [%]:

<6%

Zero - Order relative to
the average [%]:

0-120%

MS-339-J-N-X
1030
3
0.71
0.71
In Stock
Triangle MS (not equal power)

---

Input Parameters

Beam Mode (SM/MM):

SM or MM

Minimum Beam Diameter [mm]:

>0.77

Output Parameters

Separation Angle [deg]:

0.71

Transmission efficiency:

Close to 100%

Uniformity (Contrast) [%]:

<10%

Zero - Order relative to
the average [%]:

<3%

MS-339-J-Y-X
1030
3
0.71
0.71
7 weeks
Triangle MS (not equal power)

---

Input Parameters

Beam Mode (SM/MM):

SM or MM

Minimum Beam Diameter [mm]:

>0.77

Output Parameters

Separation Angle [deg]:

0.71

Transmission efficiency:

Close to 100%

Uniformity (Contrast) [%]:

<10%

Zero - Order relative to
the average [%]:

<3%

MS-340-Q-N-X
532
21x21
0.080x0.080
1.60x1.60
In Stock

---

Input Parameters

Beam Mode (SM/MM):

SM or MM

Minimum Beam Diameter [mm]:

>2.29

Output Parameters

Separation Angle [deg]:

0.080x0.080

Transmission efficiency:

Close to 100%

Uniformity (Contrast) [%]:

<8%

Zero - Order relative to
the average [%]:

0-400%

MS-340-Q-Y-X
532
21x21
0.080x0.080
1.60x1.60
7 weeks

---

Input Parameters

Beam Mode (SM/MM):

SM or MM

Minimum Beam Diameter [mm]:

>2.29

Output Parameters

Separation Angle [deg]:

0.080x0.080

Transmission efficiency:

Close to 100%

Uniformity (Contrast) [%]:

<8%

Zero - Order relative to
the average [%]:

0-400%

MS-341-I-N-A
1064
4x4
0.85x0.85
2.54x2.54
In Stock

---

Input Parameters

Beam Mode (SM/MM):

SM or MM

Minimum Beam Diameter [mm]:

>0.43

Output Parameters

Separation Angle [deg]:

0.85x0.85

Transmission efficiency:

Close to 100%

Uniformity (Contrast) [%]:

<1%

Zero-Order relative to
the incident beam [%]:

<1.5%

MS-341-I-Y-A
1064
4x4
0.85x0.85
2.54x2.54
7 weeks

---

Input Parameters

Beam Mode (SM/MM):

SM or MM

Minimum Beam Diameter [mm]:

>0.43

Output Parameters

Separation Angle [deg]:

0.85x0.85

Transmission efficiency:

Close to 100%

Uniformity (Contrast) [%]:

<1%

Zero-Order relative to
the incident beam [%]:

<1.5%

MS-342-I-N-X
1064
7x7
1.40x1.40
8.42x8.42
In Stock

---

Input Parameters

Beam Mode (SM/MM):

SM or MM

Minimum Beam Diameter [mm]:

>0.13

Output Parameters

Separation Angle [deg]:

1.40x1.40

Transmission efficiency:

Close to 100%

Uniformity (Contrast) [%]:

<20%

Zero - Order relative to
the average [%]:

0-150%

MS-342-I-Y-X
1064
7x7
1.40x1.40
8.42x8.42
7 weeks

---

Input Parameters

Beam Mode (SM/MM):

SM or MM

Minimum Beam Diameter [mm]:

>0.13

Output Parameters

Separation Angle [deg]:

1.40x1.40

Transmission efficiency:

Close to 100%

Uniformity (Contrast) [%]:

<20%

Zero - Order relative to
the average [%]:

0-150%

MS-353-G-N-A
1550
16x16
0.33x0.33
4.91x4.91
In Stock

---

Input Parameters

Beam Mode (SM/MM):

SM or MM

Minimum Beam Diameter [mm]:

>1.12

Output Parameters

Separation Angle [deg]:

0.33x0.33

Transmission efficiency:

Close to 100%

Uniformity (Contrast) [%]:

<1.5%

Zero-Order relative to
the incident beam [%]:

<1%

MS-353-G-Y-A
1550
16x16
0.33x0.33
4.91x4.91
7 weeks

---

Input Parameters

Beam Mode (SM/MM):

SM or MM

Minimum Beam Diameter [mm]:

>1.12

Output Parameters

Separation Angle [deg]:

0.33x0.33

Transmission efficiency:

Close to 100%

Uniformity (Contrast) [%]:

<1.5%

Zero-Order relative to
the incident beam [%]:

<1%

MS-354-G-N-A
1550
2x2
0.50x0.50
0.50x0.50
In Stock

---

Input Parameters

Beam Mode (SM/MM):

SM or MM

Minimum Beam Diameter [mm]:

>0.73

Output Parameters

Separation Angle [deg]:

0.50x0.50

Transmission efficiency:

Close to 100%

Uniformity (Contrast) [%]:

<2%

Zero-Order relative to
the incident beam [%]:

<1%

MS-354-G-Y-A
1550
2x2
0.50x0.50
0.50x0.50
7 weeks

---

Input Parameters

Beam Mode (SM/MM):

SM or MM

Minimum Beam Diameter [mm]:

>0.73

Output Parameters

Separation Angle [deg]:

0.50x0.50

Transmission efficiency:

Close to 100%

Uniformity (Contrast) [%]:

<2%

Zero-Order relative to
the incident beam [%]:

<1%

MS-356-Q-N-A
532
12
3.35
3.35
In Stock
MS Circle

---

Input Parameters

Beam Mode (SM/MM):

SM or MM

Minimum Beam Diameter [mm]:

>1.20

Output Parameters

Separation Angle [deg]:

3.35

Transmission efficiency:

Close to 100%

Uniformity (Contrast) [%]:

<0.5%

Zero - Order relative to
the average [%]:

0-100%

MS-356-Q-Y-A
532
12
3.35
3.35
7 weeks
MS Circle

---

Input Parameters

Beam Mode (SM/MM):

SM or MM

Minimum Beam Diameter [mm]:

>1.20

Output Parameters

Separation Angle [deg]:

3.35

Transmission efficiency:

Close to 100%

Uniformity (Contrast) [%]:

<0.5%

Zero - Order relative to
the average [%]:

0-100%

MS-358-Q-N-X
532
9x9
1.09x1.09
8.76x8.76
In Stock

---

Input Parameters

Beam Mode (SM/MM):

SM or MM

Minimum Beam Diameter [mm]:

>0.17

Output Parameters

Separation Angle [deg]:

1.09x1.09

Transmission efficiency:

Close to 100%

Uniformity (Contrast) [%]:

<20%

Zero - Order relative to
the average [%]:

0-250%

MS-358-Q-Y-X
532
9x9
1.09x1.09
8.76x8.76
In Stock

---

Input Parameters

Beam Mode (SM/MM):

SM or MM

Minimum Beam Diameter [mm]:

>0.17

Output Parameters

Separation Angle [deg]:

1.09x1.09

Transmission efficiency:

Close to 100%

Uniformity (Contrast) [%]:

<20%

Zero - Order relative to
the average [%]:

0-250%

MS-359-Q-N-A
532
11x11
0.10x0.10
1.00x1.00
In Stock

---

Input Parameters

Beam Mode (SM/MM):

SM or MM

Minimum Beam Diameter [mm]:

>1.83

Output Parameters

Separation Angle [deg]:

0.10x0.10

Transmission efficiency:

Close to 100%

Uniformity (Contrast) [%]:

<5%

Zero - Order relative to
the average [%]:

0-100%

MS-359-Q-Y-A
532
11x11
0.10x0.10
1.00x1.00
7 weeks

---

Input Parameters

Beam Mode (SM/MM):

SM or MM

Minimum Beam Diameter [mm]:

>1.83

Output Parameters

Separation Angle [deg]:

0.10x0.10

Transmission efficiency:

Close to 100%

Uniformity (Contrast) [%]:

<5%

Zero - Order relative to
the average [%]:

0-100%

MS-360-Q-N-X
532
99x99
0.10x0.10
9.83x9.83
In Stock
Not standard MS

---

Input Parameters

Beam Mode (SM/MM):

SM or MM

Minimum Beam Diameter [mm]:

>1.83

Output Parameters

Separation Angle [deg]:

0.10x0.10

Transmission efficiency:

Close to 100%

Uniformity (Contrast) [%]:

<20%

Zero - Order relative to
the average [%]:

0-250%

MS-360-Q-Y-X
532
99x99
0.10x0.10
9.83x9.83
7 weeks
Not standard MS

---

Input Parameters

Beam Mode (SM/MM):

SM or MM

Minimum Beam Diameter [mm]:

>1.83

Output Parameters

Separation Angle [deg]:

0.10x0.10

Transmission efficiency:

Close to 100%

Uniformity (Contrast) [%]:

<20%

Zero - Order relative to
the average [%]:

0-250%

MS-362-X-N-X
308
3x3
3.27x5.68
6.55x11.36
In Stock

---

Input Parameters

Beam Mode (SM/MM):

SM or MM

Minimum Beam Diameter [mm]:

>0.06

Element Parameters

Clear Aperture [mm]:

29.7x29.7

Thickness [mm]:

1.524 or 2.29

Output Parameters

Separation Angle [deg]:

3.27x5.68

Transmission efficiency:

Close to 100%

Uniformity (Contrast) [%]:

<15%

Zero - Order relative to
the average [%]:

50-150%

MS-362-X-Y-X
308
3x3
3.27x5.68
6.55x11.36
7 weeks

---

Input Parameters

Beam Mode (SM/MM):

SM or MM

Minimum Beam Diameter [mm]:

>0.06

Element Parameters

Clear Aperture [mm]:

29.7x29.7

Thickness [mm]:

1.524 or 2.29

Output Parameters

Separation Angle [deg]:

3.27x5.68

Transmission efficiency:

Close to 100%

Uniformity (Contrast) [%]:

<15%

Zero - Order relative to
the average [%]:

50-150%

MS-363-Q-N-X
532
101x101
0.40x0.40
40.66x40.66
In Stock
random MS

---

Input Parameters

Beam Mode (SM/MM):

SM or MM

Minimum Beam Diameter [mm]:

>0.46

Element Parameters

Thickness [mm]:

1.524 or 2.29

Output Parameters

Separation Angle [deg]:

0.40x0.40

Transmission efficiency:

Close to 100%

Uniformity (Contrast) [%]:

<35%

Zero-Order relative to
the incident beam [%]:

<3%

MS-363-Q-Y-X
532
101x101
0.40x0.40
40.66x40.66
In Stock
random MS

---

Input Parameters

Beam Mode (SM/MM):

SM or MM

Minimum Beam Diameter [mm]:

>0.46

Element Parameters

Thickness [mm]:

1.524 or 2.29

Output Parameters

Separation Angle [deg]:

0.40x0.40

Transmission efficiency:

Close to 100%

Uniformity (Contrast) [%]:

<35%

Zero-Order relative to
the incident beam [%]:

<3%

MS-367-1-N-X
660
21x21
0.090x0.090
1.81x1.81
In Stock

---

Input Parameters

Beam Mode (SM/MM):

SM or MM

Minimum Beam Diameter [mm]:

>2.03

Output Parameters

Separation Angle [deg]:

0.090x0.090

Transmission efficiency:

Close to 100%

Uniformity (Contrast) [%]:

%

Zero-Order relative to
the incident beam [%]:

<0.6%

MS-367-1-Y-X
660
21x21
0.090x0.090
1.81x1.81
7 weeks

---

Input Parameters

Beam Mode (SM/MM):

SM or MM

Minimum Beam Diameter [mm]:

>2.03

Output Parameters

Separation Angle [deg]:

0.090x0.090

Transmission efficiency:

Close to 100%

Uniformity (Contrast) [%]:

%

Zero-Order relative to
the incident beam [%]:

<0.6%

MS-375-Q-N-A
532
10x10
0.069x0.069
0.62x0.62
In Stock
High Efficiency

---

Input Parameters

Beam Mode (SM/MM):

SM or MM

Minimum Beam Diameter [mm]:

>5.32

Output Parameters

Separation Angle [deg]:

0.069x0.069

Transmission efficiency:

Close to 100%

Uniformity (Contrast) [%]:

<15%

Zero-Order relative to
the incident beam [%]:

<1.5%

MS-375-Q-Y-A
532
10x10
0.069x0.069
0.62x0.62
In Stock
High Efficiency

---

Input Parameters

Beam Mode (SM/MM):

SM or MM

Minimum Beam Diameter [mm]:

>5.32

Output Parameters

Separation Angle [deg]:

0.069x0.069

Transmission efficiency:

Close to 100%

Uniformity (Contrast) [%]:

<15%

Zero-Order relative to
the incident beam [%]:

<1.5%

MS-376-I-N-A
2940
9x9
0.21x0.21
1.65x1.65
In Stock

---

Input Parameters

Beam Mode (SM/MM):

SM or MM

Minimum Beam Diameter [mm]:

>0.89

Output Parameters

Separation Angle [deg]:

0.21x0.21

Transmission efficiency:

Close to 100%

Uniformity (Contrast) [%]:

<6%

Zero - Order relative to
the average [%]:

0-100%

MS-376-I-Y-A
2940
9x9
0.21x0.21
1.65x1.65

---

Input Parameters

Beam Mode (SM/MM):

SM or MM

Minimum Beam Diameter [mm]:

>0.89

Output Parameters

Separation Angle [deg]:

0.21x0.21

Transmission efficiency:

Close to 100%

Uniformity (Contrast) [%]:

<6%

Zero - Order relative to
the average [%]:

0-100%

MS-377-I-N-A
1064
9x9
0.50x0.50
4.00x4.00
In Stock

---

Input Parameters

Beam Mode (SM/MM):

SM or MM

Minimum Beam Diameter [mm]:

>0.37

Output Parameters

Separation Angle [deg]:

0.50x0.50

Transmission efficiency:

Close to 100%

Uniformity (Contrast) [%]:

<13%

Zero - Order relative to
the average [%]:

0-100%

MS-377-I-Y-A
1064
9x9
0.50x0.50
4.00x4.00
7 weeks

---

Input Parameters

Beam Mode (SM/MM):

SM or MM

Minimum Beam Diameter [mm]:

>0.37

Output Parameters

Separation Angle [deg]:

0.50x0.50

Transmission efficiency:

Close to 100%

Uniformity (Contrast) [%]:

<13%

Zero - Order relative to
the average [%]:

0-100%

MS-382-Q-N-A
532
2x2
7.63x7.63
7.63x7.63
In Stock

---

Input Parameters

Beam Mode (SM/MM):

SM or MM

Minimum Beam Diameter [mm]:

>0.05

Output Parameters

Separation Angle [deg]:

7.63x7.63

Transmission efficiency:

Close to 100%

Uniformity (Contrast) [%]:

<2%

Zero-Order relative to
the incident beam [%]:

<2%

MS-382-Q-Y-A
532
2x2
7.63x7.63
7.63x7.63
7 weeks

---

Input Parameters

Beam Mode (SM/MM):

SM or MM

Minimum Beam Diameter [mm]:

>0.05

Output Parameters

Separation Angle [deg]:

7.63x7.63

Transmission efficiency:

Close to 100%

Uniformity (Contrast) [%]:

<2%

Zero-Order relative to
the incident beam [%]:

<2%

MS-383-D-N-A
2940
76
38.18
38.18
In Stock
Hexagonal Lattice

---

Input Parameters

Beam Mode (SM/MM):

SM or MM

Minimum Beam Diameter [mm]:

>0.73

Output Parameters

Separation Angle [deg]:

38.18

Transmission efficiency:

Close to 100%

Uniformity (Contrast) [%]:

<1.5%

Zero - Order relative to
the average [%]:

0-100%

MS-383-D-Y-A
2940
76
38.18
38.18
Hexagonal Lattice

---

Input Parameters

Beam Mode (SM/MM):

SM or MM

Minimum Beam Diameter [mm]:

>0.73

Output Parameters

Separation Angle [deg]:

38.18

Transmission efficiency:

Close to 100%

Uniformity (Contrast) [%]:

<1.5%

Zero - Order relative to
the average [%]:

0-100%

MS-384-I-N-A
2940
8x8
0.57x0.57
3.98x3.98
In Stock

---

Input Parameters

Beam Mode (SM/MM):

SM or MM

Minimum Beam Diameter [mm]:

>0.64

Output Parameters

Separation Angle [deg]:

0.57x0.57

Transmission efficiency:

Close to 100%

Uniformity (Contrast) [%]:

<5%

Zero-Order relative to
the incident beam [%]:

<1.5%

MS-384-I-Y-A
2940
8x8
0.57x0.57
3.98x3.98

---

Input Parameters

Beam Mode (SM/MM):

SM or MM

Minimum Beam Diameter [mm]:

>0.64

Output Parameters

Separation Angle [deg]:

0.57x0.57

Transmission efficiency:

Close to 100%

Uniformity (Contrast) [%]:

<5%

Zero-Order relative to
the incident beam [%]:

<1.5%

MS-386-1-N-X
800
5
27.35
27.35
In Stock
MS Dice

---

Input Parameters

Beam Mode (SM/MM):

SM or MM

Minimum Beam Diameter [mm]:

>0.03

Output Parameters

Separation Angle [deg]:

27.35

Transmission efficiency:

Close to 100%

Uniformity (Contrast) [%]:

<7%

Zero - Order relative to
the average [%]:

50-150%

MS-386-1-Y-X
800
5
27.35
27.35
7 weeks
MS Dice

---

Input Parameters

Beam Mode (SM/MM):

SM or MM

Minimum Beam Diameter [mm]:

>0.03

Output Parameters

Separation Angle [deg]:

27.35

Transmission efficiency:

Close to 100%

Uniformity (Contrast) [%]:

<7%

Zero - Order relative to
the average [%]:

50-150%

MS-387-D-N-A
1064
9x9
0.50x0.50
4.00x4.00
In Stock

---

Input Parameters

Beam Mode (SM/MM):

SM or MM

Minimum Beam Diameter [mm]:

>0.37

Output Parameters

Separation Angle [deg]:

0.50x0.50

Transmission efficiency:

Close to 100%

Uniformity (Contrast) [%]:

<13%

Zero - Order relative to
the average [%]:

0-100%

MS-387-D-Y-A
1064
9x9
0.50x0.50
4.00x4.00
7 weeks

---

Input Parameters

Beam Mode (SM/MM):

SM or MM

Minimum Beam Diameter [mm]:

>0.37

Output Parameters

Separation Angle [deg]:

0.50x0.50

Transmission efficiency:

Close to 100%

Uniformity (Contrast) [%]:

<13%

Zero - Order relative to
the average [%]:

0-100%

MS-393-D-N-X
2940
9x9
0.70x0.70
5.61x5.61
In Stock

---

Input Parameters

Beam Mode (SM/MM):

SM or MM

Minimum Beam Diameter [mm]:

>0.26

Output Parameters

Separation Angle [deg]:

0.70x0.70

Transmission efficiency:

Close to 100%

Uniformity (Contrast) [%]:

<20%

Zero - Order relative to
the average [%]:

0-300%

MS-393-D-Y-X
2940
9x9
0.70x0.70
5.61x5.61

---

Input Parameters

Beam Mode (SM/MM):

SM or MM

Minimum Beam Diameter [mm]:

>0.26

Output Parameters

Separation Angle [deg]:

0.70x0.70

Transmission efficiency:

Close to 100%

Uniformity (Contrast) [%]:

<20%

Zero - Order relative to
the average [%]:

0-300%

MS-395-I-N-X
1064
37
5.95
5.95
In Stock
hexagonal (head 120deg)

---

Input Parameters

Beam Mode (SM/MM):

SM or MM

Minimum Beam Diameter [mm]:

>1.11

Output Parameters

Separation Angle [deg]:

5.95

Transmission efficiency:

Close to 100%

Uniformity (Contrast) [%]:

<4%

Zero - Order relative to
the average [%]:

70-130%

MS-395-I-Y-X
1064
37
5.95
5.95
7 weeks
hexagonal (head 120deg)

---

Input Parameters

Beam Mode (SM/MM):

SM or MM

Minimum Beam Diameter [mm]:

>1.11

Output Parameters

Separation Angle [deg]:

5.95

Transmission efficiency:

Close to 100%

Uniformity (Contrast) [%]:

<4%

Zero - Order relative to
the average [%]:

70-130%

MS-397-G-N-A
1550
16x16
0.33x0.33
4.91x4.91
In Stock

---

Input Parameters

Beam Mode (SM/MM):

SM or MM

Minimum Beam Diameter [mm]:

>1.12

Output Parameters

Separation Angle [deg]:

0.33x0.33

Transmission efficiency:

Close to 100%

Uniformity (Contrast) [%]:

<1.5%

Zero-Order relative to
the incident beam [%]:

<1%

MS-397-G-Y-A
1550
16x16
0.33x0.33
4.91x4.91
7 weeks

---

Input Parameters

Beam Mode (SM/MM):

SM or MM

Minimum Beam Diameter [mm]:

>1.12

Output Parameters

Separation Angle [deg]:

0.33x0.33

Transmission efficiency:

Close to 100%

Uniformity (Contrast) [%]:

<1.5%

Zero-Order relative to
the incident beam [%]:

<1%

MS-402-Q-N-A
532
11x11
0.32x0.32
3.20x3.20
In Stock

---

Input Parameters

Beam Mode (SM/MM):

SM or MM

Minimum Beam Diameter [mm]:

>0.57

Output Parameters

Separation Angle [deg]:

0.32x0.32

Transmission efficiency:

Close to 100%

Uniformity (Contrast) [%]:

<10%

Zero - Order relative to
the average [%]:

0-100%

MS-402-Q-Y-A
532
11x11
0.32x0.32
3.20x3.20
7 weeks

---

Input Parameters

Beam Mode (SM/MM):

SM or MM

Minimum Beam Diameter [mm]:

>0.57

Output Parameters

Separation Angle [deg]:

0.32x0.32

Transmission efficiency:

Close to 100%

Uniformity (Contrast) [%]:

<10%

Zero - Order relative to
the average [%]:

0-100%

MS-403-Q-N-X
532
11x11
0.32x0.32
3.20x3.20
In Stock

---

Input Parameters

Beam Mode (SM/MM):

SM or MM

Minimum Beam Diameter [mm]:

>0.57

Output Parameters

Separation Angle [deg]:

0.32x0.32

Transmission efficiency:

Close to 100%

Uniformity (Contrast) [%]:

<10%

Zero - Order relative to
the average [%]:

0-250%

MS-403-Q-Y-X
532
11x11
0.32x0.32
3.20x3.20
7 weeks

---

Input Parameters

Beam Mode (SM/MM):

SM or MM

Minimum Beam Diameter [mm]:

>0.57

Output Parameters

Separation Angle [deg]:

0.32x0.32

Transmission efficiency:

Close to 100%

Uniformity (Contrast) [%]:

<10%

Zero - Order relative to
the average [%]:

0-250%

MS-404-I-N-X
515
81x81
0.23x0.23
18.37x18.37
In Stock
random MS

---

Input Parameters

Beam Mode (SM/MM):

SM or MM

Minimum Beam Diameter [mm]:

>0.80

Element Parameters

Element Size [mm]:

2.5x2.5

Clear Aperture [mm]:

2.3x2.3

Thickness [mm]:

1.524 or 2.29

Output Parameters

Separation Angle [deg]:

0.23x0.23

Transmission efficiency:

Close to 100%

Uniformity (Contrast) [%]:

<30%

Zero-Order relative to
the incident beam [%]:

<2%

MS-404-I-Y-X
515
81x81
0.23x0.23
18.37x18.37
7 weeks
random MS

---

Input Parameters

Beam Mode (SM/MM):

SM or MM

Minimum Beam Diameter [mm]:

>0.80

Element Parameters

Element Size [mm]:

2.5x2.5