Structured light diffractive optical elements (DOE) are specially designed to split or shape a single laser beam to cover a large field of view.
By upgrading our production facilities, Holo/Or now offers high-angle, high-quality, high-efficiency Beam Splitters and Beam Shapers DOE for both low and high-power applications ranging from mW to KW range.
Our DOE are made of either UV-grade Fused Silica, or low cost option such as polymer on glass or injection molded plastic.  The main plastic types are: Polycarbonate, PMMA, Zeonex and Zoner.
Typical applications include structured light 3D sensing,  LIDAR and light projection.
Holo/Or is happy to launch this brand new High-angle Diffractive Optical Elements (DOE) product line to meet our customers' demands.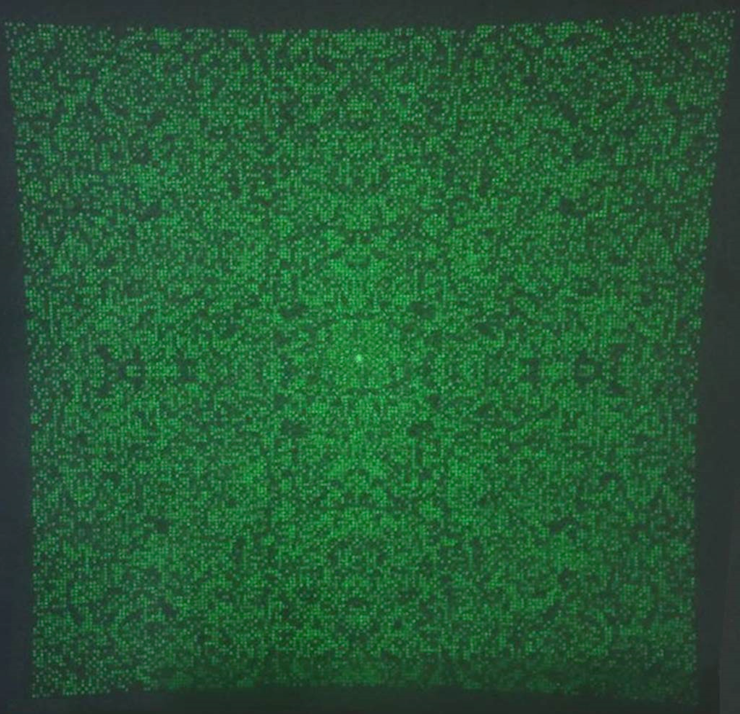 | | |
| --- | --- |
| Possible multi-spot (dot / line generator) patterns | Random spots, Spot array (1xM), Spot matrix (MxN), Multi-line, Grid |
| Possible diffuser (homogenizer) patterns | Circle, Square, Rectangle, Line, Custom |
| Wavelength | 266 - 2200 nm |
| Full angle @ 850 nm | Up to 80x80 degrees |
| Zero Order | Angle dependent, can be optimized for eye-safety |
| Material | UV grade fused silica, Polymer on Glass or Plastic |
| Dimensions | From 2x2mm up to 150mm diameter (square or round) |
Multispot DOEs with the remark "target" is an element that produces a number of spots building a typical target, refer also to below image.
Multispot DOEs with the remark "random" have a random pattern of spots, when 50% of the dot matrix are potential spots and will be "on", and this is determined by a randomizing algorithm.
Multispot DOEs without any additional remark, show a homogenous distribution of the spots, as shown in the image below:
For structured light solution, please contact us and provide the following details  
If you are interested in custom DOEs, please provide the following data:
Description of application
Wavelength
Beam definition (diameter, input mode, divergence)
DOE dimension – if some specific values are needed
Working distance
Requested output shape at working distance
Special needs (high efficiency, high homogeneity, AR coating)
Quantity for samples and serial production