Broadband hybrid diffusers general definition and principle of operation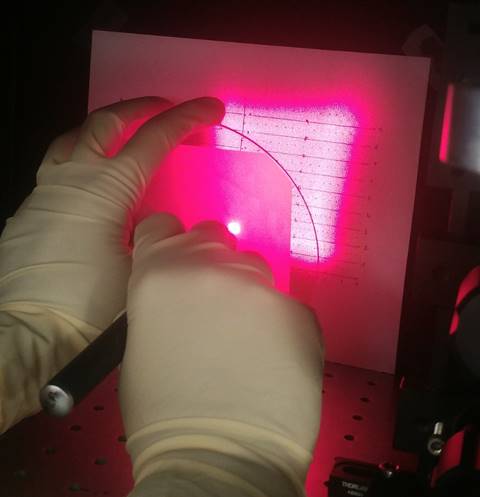 A broadband diffuser is a beam shaping diffuser that has similar performance for multiple wavelengths, ideally an entire spectral band. Such broadband diffusers can be purely refractive elements. i.e a random micro-lens array or prism facets array, or they can improve performance by utilizing both diffractive and refractive optical power together- this is known as a hybrid broadband diffuser.  Such broadband diffusers can give flat top distributions without any artifacts inside (such as grid-interference in a micro lens array) and allow shaping the laser beam to arbitrary shapes.
Hybrid diffusers work by combining two types of surface structures. The larger scale structures are micro-lens like structures that work by refracting the light, thus are highly insensitive to wavelength variation. The smaller, denser scale structures utilize diffractive scattering of the light to increase the angles and improve homogeneity, as well as enabling precise control of the light shaping function. Another approach in broadband diffuser optics design is to use low frequency diffractive modulations on the surface of a refractive random micro-lens array to achieve better homogeneity.
Beam shaping with broadband diffusers
Holo/Or's Broad band diffusers can shape the light to any desired shape, including circles, rectangles, hexagons, lines, squares and other shapes. The diffuser laser intensity angular profile can be flat- top, or it can be tailored to provide flat-top intensity when projected on a flat screen by creating an M-shape (also known as bat-wing) angular profile. Other possible features include adding high intensity spots or patterns at pre-defined locations inside the flat-top region, to provide orientation for 3D sensing applications.
Broadband Diffusers are highly tolerant to input conditions- they are not sensitive to centering and are only slightly affected by beam size of wavelength changes. One can simply mount the diffuser in front of a laser and achieve the desired angular profile. For sharp edges and lower diffusion angles, it is highly recommended to use a lens after the diffuser to achieve a sharp image at the focus of the lens. For large diffusion angle application (like most sensing applications), a lens is often not required.
Broadband hybrid diffuser applications
Broadband diffusers are often used as laser beam homogenizers, to shape an arbitrary input beam into a smooth, flat-top distribution with well-defined diffusion angles.  This is highly useful in applications such as:
3D sensing
Lidar (Time of Flight)
Laser Spectroscopy
On-Screen projection (Cinema scale projectors)
Thermal surface treatments
Aesthetic/medical laser treatments
What is a broadband hybrid Diffuser?
A broadband hybrid diffuser is a beam shaping diffuser that has similar performance for multiple wavelengths. Its pattern is combined from both refractive micro lenses and diffractive patterns – making it a hybrid diffuser. It scatters incoming light (usually from a laser) into a pre-determined angular profile, usually a flat-top profile with a given shape.
What is the difference between hybrid broadband diffusers and other types of beam shaping diffusers?
Most other types of diffusers use either purely refractive effects (lenses, facets) or purely diffractive effects (diffraction grating) to achieve the desired shape and profile. Diffractive diffusers are very accurate and provide shaping freedom, but are monochromatic, while refractive diffusers are polychromatic, but tend to have limited shaping freedom and accuracy.  Hybrid broad diffusers combine both type's advantages by being polychromatic yet having shaping freedom.
What shapes can be generated by a broadband hybrid diffuser?
There is complete shaping freedom, including circles, squares, rectangles, lines, and areas of intensity inside other patterns with custom shapes.
Are broadband diffusers sensitive to tolerances?
No, hybrid broadband diffusers are insensitive to beam size, wavelength, laser quality, and even small tilts.
What are the applications of Broadband Beam Shaping diffusers?
There are diverse applications where broadband diffusers are used, including 3D sensing and automotive Time of Flight (ToF) LIDAR, as well as cinema projection, medical and aesthetic laser applications.