HOLO/OR's latest innovative development, enabling a full range adjustable distribution of the power ratio between the Zero-Order and a surrounding concentric ring, was validated in cooperation with HOLO/OR's sister companies SCANLAB and BLACKBIRD and proved to increase weld speed from 45 m/min to up to 70 m/min!
Adjustable diffractive beam shaper concept
The concept of adjustable laser beam shapers using diffractive optical elements was first introduced by HOLO/OR in a scholarly article from Feb. 2019, when we  presented a semi-dynamic beam shaper using a single passive diffractive optical element (DOE). 
The concept suggests that a single DOE can be divided into sub-apertures, each designed to generate a different optical function, and thus, when rotated, mounted on a moving stage or combined with a beam steering device, the single passive DOE can provide a robust and easy to integrate optical solution for systems and applications which would otherwise use either a complex and expensive laser or require a dynamic beam shaper.
One such application is high-speed laser welding. Thanks to the recent availability of affordable high powered lasers, power is practically no longer the limiting factor for welding speeds and instead other physical phenomena which previously where a "non-issue" ,such as humping and undercut, become a dominant factor in determining  the speed limit of the process. 
These limitations on welding speed can be bypassed by using tailored distributions generated by a beam shaper, such as a ring with a central point, with controlled, dynamically variable  power ratio between the ring and the spot. While such distributions can be achieved by a dynamic beam shaper, often the LDT of such components is unsuitable for high power applications, and therefore a high LDT, passive component such as a DOE  is preferred. However,  the need for tunability in process development often poses a challenge to DOE use, a challenge solved by the Flexishaper module.  
Flexishaper full range ring-to-spot adjustable power ratio module
The ring-spot adjustable laser beam shaper concept was further developed beyond the original concept of sub-apertures, and released as the Flexishaper module in May 2021. The Flexishaper module consists of two identical beam shaper DOEs. When rotated against one another, the output power distribution transitions continuously from 100% of the power at the zero-order (ZO) to ~80% of the power in a concentric surrounding ring, with ZO almost 0%. Due to being a full beam shaper, with no sub-aperture clipping effects, this device is suitable for use with both single-mode and multimode laser beams without any degradation of spot quality.
This device was put into use in a test setup by HOLO/OR's sister company BLACKBIRD along with SCANLAB's 3D scanner system, and proved to overcome the humping and undercut issues in fuel cells high-speed foil welding, enabling over 50% increase in weld speed with < 1kW single mode laser, thus providing a cost effective and robust solution to a demanding beam shaping application.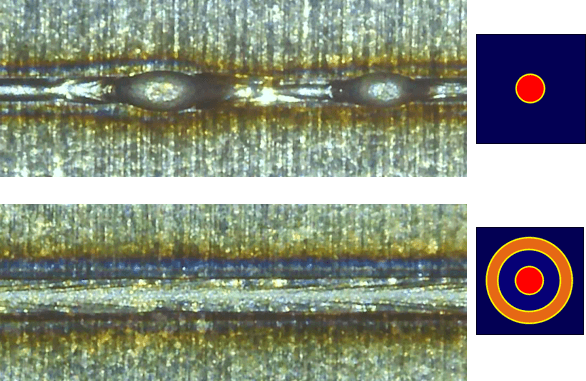 Flexishaper is a module designed for process developers. It enables the process developer to find the optimal working ratio of power distribution between the central spot and the surrounding ring for their specific process. Once that ratio is determined, HOLO/OR can produce a single  custom DOE which will generate that specific optimal power ratio, for an even more cost effective and easy to integrate solution into the final system, requiring absolutely no moving parts and thus no failure points. Flexishaper DOEs are made of pure Fused-Silica, offering a robust solution with high laser damage threshold (LDT) and high transmission efficiency, and can be customized to accept large beams (2'' optics) often used in  multi-kW laser systems.
What is Flexishaper?
Flexishaper is an optical device combined of 2 diffractive optical elements that enables modifying any input beam (SM or MM) in a continuous full range power distribution between a central spot mode to a surrounding concentric ring.
Is Flexishaper a dynamic beam shaper?
 No, Flexishaper is not a dynamic beam shaper. Flexishaper is a passive diffractive optical device which thanks to its unique design enables an adjustable shaping function with all the inherent manufacturability and stability advantages of a passive component.
Why do we need beam shapers?
Laser Beam shapers in general, are becoming more and more common in laser systems since in recent years laser cost per watt greatly decreased, and in many systems power is no longer the limiting factor. Laser beam shapers such as Gaussian to top hat beam shaper and multibeam beam splitters enable system integrators and process developers to optimize their use of the now available power. 
You might also be interested in: