The high power diffractive optical element market is experiencing a major boom in recent years, as DOE powered applications such as aesthetic laser treatments, laser glass cutting, laser micro-machining and laser welding are gaining popularity and acceptance. Many new players are joining the fields, some less aware of the advantages and uniqueness of diffractive optical elements, and thus we at Holo/Or feel there is a need to go over some diffractive optical element basics so our customers better understand what DOEs can offer.
Diffractive optical element basics
DOEs are flat phase elements that modify the wavefront of incoming laser light. This is achieved by etching each point of the diffractive surface to a different height, thus creating a different delay to the portion of the beam going through this point. This enables DOE to superimpose any desired phase profile to the wavefront, assuming the light is of a single wavelength (monochromatic) and the surface relief has well- controlled heights.  The number of height levels effects efficiency- 2 height levels (Binary DOEs) have lower efficiencies typically, compared to multi-level phase profiles. 
Other diffractive optical element manufacturers often refer to DOEs as "phase masks" or "phase gratings", or sometimes even "diffractive optical lens". We prefer the term Diffractive optical element, as it is the most generic one, and thus correct for all cases. Our DOEs can create multiple optical function, including beam splitting, beam shaping into a flat top, focal manipulations and many more. 
Diffractive optical element design
One of Holo/Or's unique value propositions is our design and design-for- production process. From our start in 1989 as a diffractive optical element manufacturer, we have built up our in-house design tools to handle a wide variety of customer needs as well as production constraint. Our design process is based on the Gerchberg- Saxton algorith of iterative fourier transform (IFTA), but utilizing our own compensation and iteration methods, thus achieving high nominal performance while taking into account constraints such as the number of levels or production tolerances. 
Our production process for Diffractive Optical Elements
At Holo/ Or  we know that precision is the name of the game- our DOEs offer unparalleled angular accuracy due to our precise semi conductor production methods.  Elements are spin-coated by photoresist, exposed using a direct laser writer and then dry etched using plasma to generate two height levels with sharp wall. For multi-level element, this process is repeated  N timess to generate 2N height levels, thus multi level element tend to be higher cost compated to binary DOEs.
This method means that the are almost no tolerances on angles, as the relative distances of features or diffractive periods  are maintained regardless of tolerances on feature size. 
A succesfull diffractive optical element manufacturer must maintain all process parameters stable, which is what we do – our ISO 7 certified clean room is both temprature and humidity controlled and all machines are constantly calibrated to ensure the tightest tolerances possible on our DOEs, enabling us to offer tigh specs on parameters such as uniformity of orders, zero order and  diffractive effiency .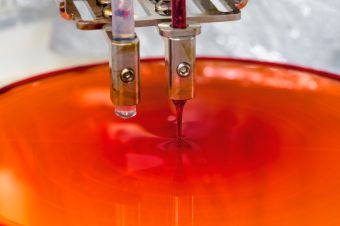 Our commitment as a diffractive optical element manufacturer
Holo/Or is committed to providing our customers with the best performing high power laser shaping solutions, we are capable of rapid design for new shaping requirements (<3 weeks from spec to ready element, for uncoated DOEs),
making prototyping and testing fast and easy. Our detailed technical resources page contains much useful information on how to integrate and simulated DOEs, but we always prefer that you contact us with your inquiries, and we will do our outmost to support you with our  professionalism and  our experience of high power laser applications. 
How long has Holo/Or been in the diffractive optical element market?
We have been a diffractive optical element manufacturer for more than 30 years.
How does a DOE work?
The DOE has of micro relief on its surface. Light going through higher points is delayed compared to light going through lower points, creating a phase delay profile. This profile then shapes the intensity of the beam at far-field. 
How are DOEs designed?
DOEs are designed at Holo/Or using our own in-house software tools, built over the many years we have been an active diffractive optical element manufacturer. 
How does Holo/Or produce diffractive optical element?
DOEs are produced using semi-conductor production processes, i.e. lithography&  dry etching 
You might also be interested in: