Background: What is an optical diffuser?
Optical diffusers are optical components that spread the optical power of incoming light beams i.e., diffuse the optical energy the beam profile, making the energy envelope smoother than the original incoming light beam.


There are many types of optical diffusers, including holographic optical elements and perfectly reflecting diffusers, but in this article, we will focus on optical diffusers that are more suitable to the shaping of high-power laser beams, namely diffractive and microlens-based diffusers.
Diffractive optical diffusers are designed by taking into account the desired shape and intensity profile the diffuser is designed to generate, as well as the wavelength. 
These design parameters are fed into an iterative Fourier transform analysis (IFTA) algorithm that optimizes the simulated diffuser phase to have the least deviations from the desired profile. The diffractive design is composed of binary levels and typically goes between 2-16 levels. For multi-level, high efficiency designs, such optimization often results in optical vortices in the phase, making for challenging production which requires high accuracy alignment. 
Simple Micro-lens based optical diffusers, often called refractive diffusers, are designed analytically by defining the lenses pitch and sag. For round diffusion, some randomization factors (cell shapes or lens locations) are used to break the lens symmetry and achieve the shape.
In more complex refractive optical diffusers, other types of phase randomization are often added to the lens surface to improve homogeneity and reduce ordered artifacts resulting from the micro lens pitch, such as Holo/Or's broadband diffusers.
Optical diffusers production
In general, there are several industry standard methods of producing optical diffusers for high-powered applications: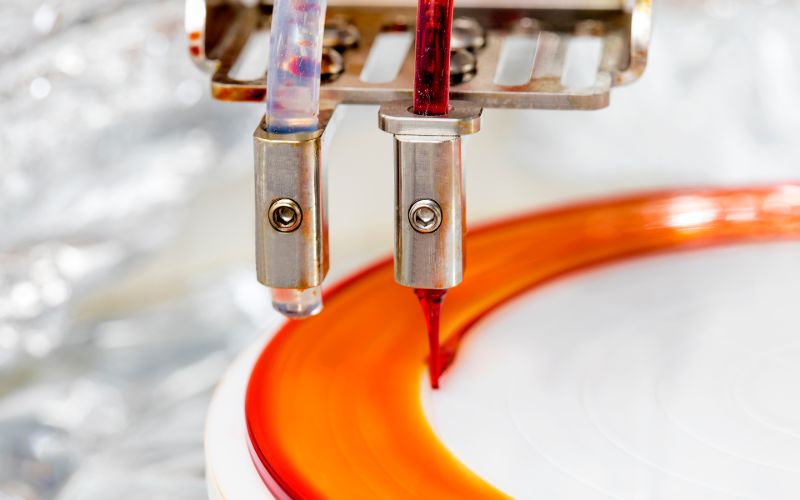 Binary Lithography & etch: for diffractive diffusers, the preferred method is to use semiconductor processes where at each step, the wafer is coated by photoresist, then exposed to generate the optical diffuser pattern, following the pattern is etched into the substrate using plasma etching (RIE/ICP). If multi-level structures are required for improved efficiency, this process is repeated, resulting in 2

N

 height levels for N repetitions.

Greyscale Lithography & etch: for refractive diffusers, a process similar to the binary lithography method can be used, but instead of binary writing, a greyscale lithography process creates the lens-like structures in a single writing step. This structure is then transferred to the substrate using the same etching process. 

Laser ablation: Another method useful for refractive diffusers is by laser ablation. A high-powered laser beam (often at 10.6um wavelength) is used to ablate the substrate in a controlled manner, resulting in the desired refractive optical diffuser structure. 

Laser induced etching:  Again, useful mostly for large scale refractive diffusers, this method employs a combination of variable power laser weakening (like greyscale writing, but directly on the glass material), with chemical wet etching. Weakened areas are etched at a significantly higher rate, resulting in transfer of the micro-lens shaped illumination profile into the glass material. 
Optical diffusers application in high power laser systems
There are countless high power laser applications that utilize optical diffusers. Some common ones include: 
Aesthetic laser skin treatments, including tattoo removal. Often, the lasers in such systems have a non-uniform intensity profile with hot spots that can damage the patient's skin. An optical diffuser is used to smooth the spot and shape it to the right size that will enable optimal treatment results. 

Laser welding, cladding and annealing with large core (>100um) multi-mode fiber lasers. In such applications, often multi kW beams are used with large diameters after collimation of the fiber laser (>10mm) needed to avoid damage to the optical system. These beams can be shaped by optical diffusers to achieve rectangular or line profiles suitable for certain industrial processes, with no speckle due to their highly multimode nature. 

Laser based photolithography at the deep UV, which often employs very high M

2

excimer lasers. Such lasers tend to have non-uniform or unstable profiles, and a common approach to dealing with this issue is by shaping the beam and homogenizing it using an optical diffuser. In such applications, diffractive diffusers are preferred in most cases, as angles tend to be very small and absolute angular accuracy is often required.
what are optical diffusers?
Optica diffusers are components that homogenize and smooth the profile of light beams. Some work by transmission (light going through them is homogenized), while other operate in reflection mode
How are optical diffusers designed?
Optical diffusers are designed based on desired angles, intensity profile and shape. Diffractive optical diffusers are optimized for a single wavelength with extreme angular accuracy, while refractive micro lens diffusers work for the entire transparent spectrum of their material, but have lower angular accuracy.
How are optical diffusers produced?
There are many ways to produce high power optical diffusers, including semiconductor lithography and etch based methods, and laser-based ablation or laser assisted etching methods