Why are laser line generator optics useful in wafer inspection?
In the semiconductor industry, extremely small surface defects and particles are a major concern, that reduces yield and cost producers time and money. It is therefore critical to inspect the surface of semiconductor wafers for defects and contamination, a challenge many of Holo/Or's customers in the semiconductor metrology industry face. One of the faster and cost-effective methods of wafer surface inspection is by using a laser line illumination and darkfield/brightfield microscopy to detect defects, often in the Depp UV (DUV) wavelengths to detect sub-100nm defects. In this method, the wafer is rotated while the line is scanned in the radial direction, resulting in a large area sampling of the wafer, and thus reducing the scan time. Since most UV and DUV lasers do not have a line output profile, laser line generator optics are often employed to make shape the laser to a line beam.
What are the requirements for laser line generator optics used in semiconductor wafer inspection?
The requirements of wafer defect inspection using laser lines in DUV wavelength are stringent- often very long lines  (>10mm) must be created, while maintaining narrow width   of <10um and excellent uniformity  inside the line. For dark field microscopy, the line needs to be projected at a grazing angle to the wafer, while still maintaining tight focus over a large line length. Such lines typically cannot be achieved by single  diffractive optics element such as a line diffuser, as the their generate speckle for single mode lasers, while multi-mode lasers cannot be focused to a tight line with reasonable depth of focus.
This type of performance requires high precision  laser beam shaping optics to create a laser line with the required edge sharpness, uniformity, width and length. Such accuracy can often be achieved by diffractive optics or free-form optics.
Methods of laser beam shaping for wafer defect inspection
The stringent requirement of laser line generator optics indicate several possible solution approaches to the beam shaping challenge, all requiring multi-element systems of diffractive or free form refractive  optics.
For typical cases with lines in the 10-20mm length range, a single mode DUV laser provides enough power to enable detection. Such cases require multi-element flat top beam shaping, where the first elements generate the line while the last elements in the system are similar to diffractive optics lenses  and are used to collimate the line and focus it in both fast and slow axis.
For especially long lines, typically >50mm, high laser power is rarely available in single mode DUV lasers. Therefore, a multi-mode laser must be used, requiring M2 transformation to enable focusing to a narrow line. This can be achieved by diffractive solution such as the Leanline, combined with a line diffuser to generate good uniformity
Alternatively, a laser line beam splitter diffractive optic can be used to generate a line of foci with equal intensities. This line is the used to scan in the wafer in the radial direction, enabling high resolution defect detection with lower laser power. The trade off -is reduced scan speed, as the area imaged at any given time is significantly smaller.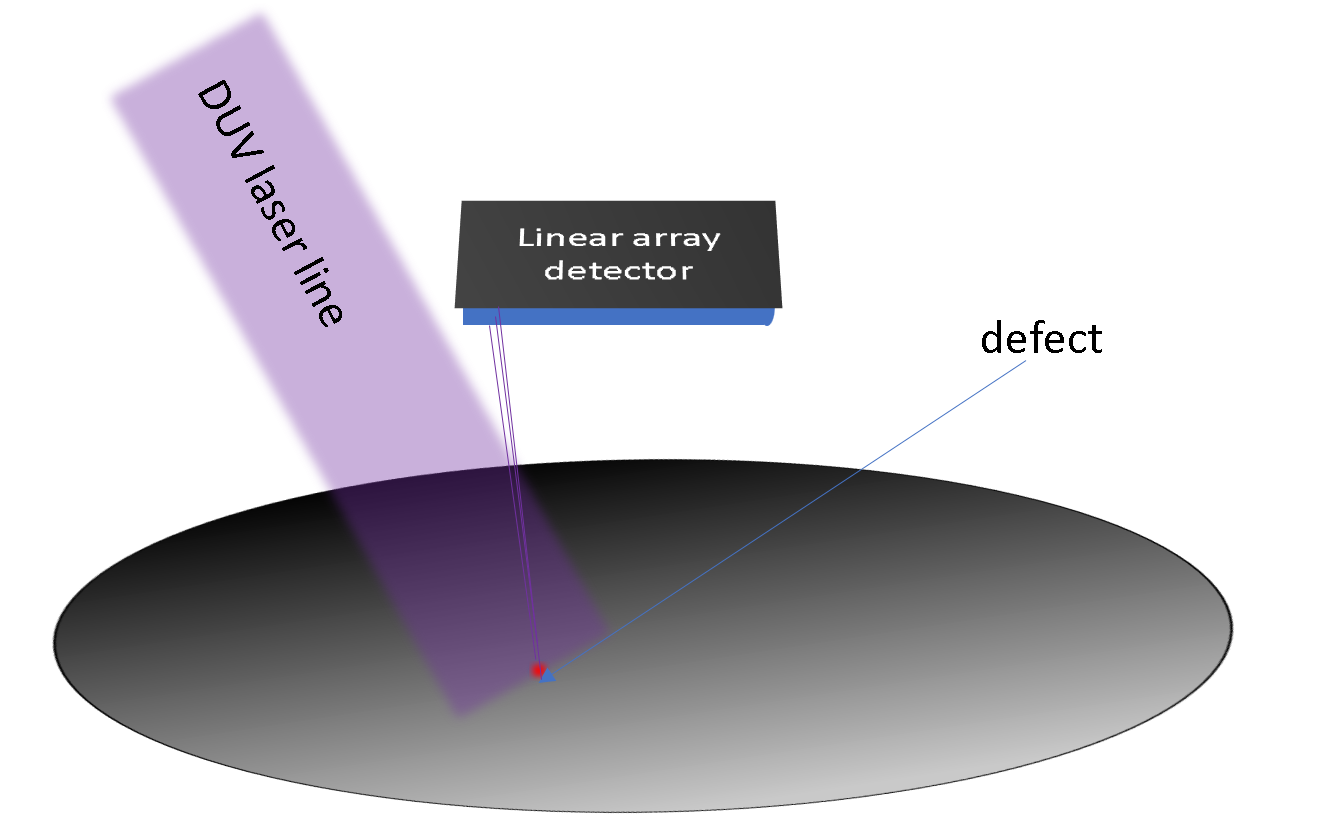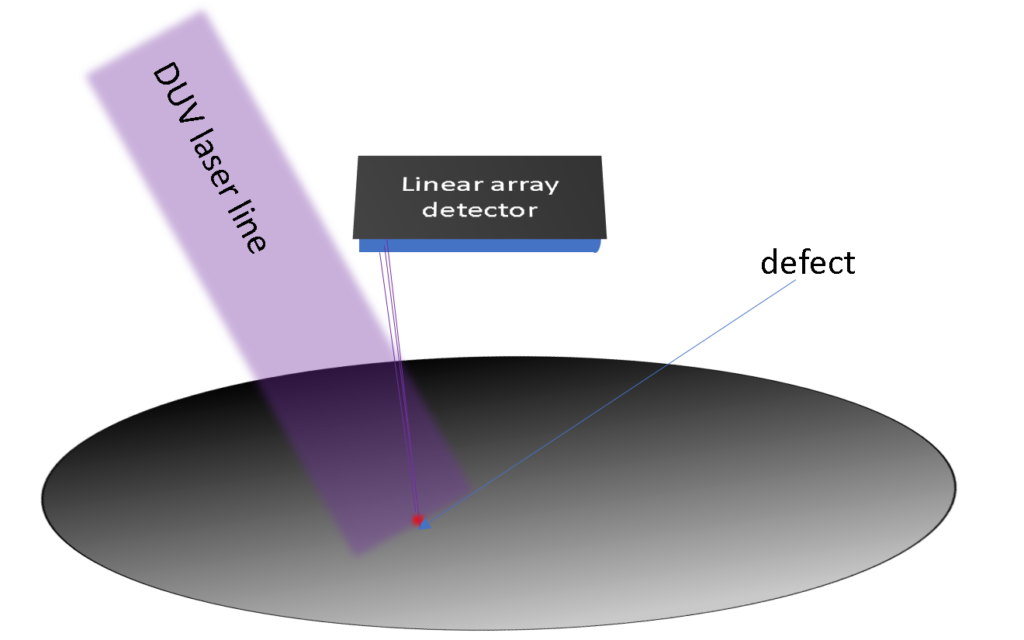 Advantages of DOE optics when used as key shaping components in laser line generator optics
Diffractive optics have several key advantages when it comes to shaping a laser into a line (or several lines) for demanding applications such as wafer metrology:
Diffractive optics have almost absolute angular accuracy- this is critical when precise distances need to measured, such as in precise metrology applications
Diffractive optics have high LDT, and Doe optics are typically flat components, making integration into a multi-element system straightforward.
DOE optics components can combine multiple functions in a single surface. For example, a laser line beam splitter can be combined with a line diffuser to generate multiple lines, enabling multi-track defect detection (allowing pixels in the linear detector time to "rest" without DUV illumination ).
Laser beam shaping optics based on diffractive optics have very low thermal sensitivity and practically no thermal lensing, making them especially suitable for narrow line shaping where even a slight defocus can hurt performance.
We at Holo/Or have many years of experience with laser line generator optics for wafer inspection and metrology – please contact us with your requirement and we will be happy to support you. 
1. How are laser line generators used in wafer defect inspection?
In wafer inspection, a  DUV line beam or a line of spots is used as the illumination source to enable high resolution brightfield or darkfield microscopy with resolution <100nm. This line is generated by a laser line generator or laser line beam splitter.
2. What is the challenge in laser line shaping for wafer inspection?
Metrology applications such as wafer defect inspection require very uniform intensity along the long line axis, which can be >10mm, while requiring a narrow line of <10um typically, to maintain high defect detection resolution. Sharp edges are also required, and in darkfield microscopy, the line also needs to be projected at high grazing angles while still maintain its tight focus.
3. What beam shaping methods are used for wafer defect inspection?
For typical lines, a multi-element system is used to generate a flat top, collimated line that is narrowly focused on the surface. Alternatively, a laser line beam splitter can generate a line of spots that are then radially scanned while rotating the wafer. Longer lines require higher power levels, achievable only by multi-mode lasers, thus the laser line generator optics often include an M2 transformation component that allows tight focusing of the line in one axis while making it more uniform in the second axis, followed by a line diffuser and focus optics.
4. What are the advantages of diffractive optics for laser line generators?
Diffractive line shapers offer  almost absolute angular accuracy, a critical parameter for any stable metrology process. They are also flat, have high LDT and can incorporate multiple optical functions in a single surface, making them ideal for multielement system operating with high power DUV
You might also be interested in: