Laser surface texturing in a cost-effective manner will open new doors to many applications. Holo/Or's DLITe™ DOE offers a simple innovative solution to this problem.
Background: Laser surface functionalization
Mankind has known, almost from the dawn of history, that changing the surface properties of materials enhances and improves their performance. For ground and smoothened stone tools to the latest water-repelling metal surfaces, we always strived to improve our control of surface properties. One of the most promising techniques in this regard is Laser Surface Texturing (LST), which is also one of the fastest growing laser beam shaping applications we see at Holo/Or. In this method, an ordered grid structure of indentations or lines is ablated into the material at a well-defined pitch and depth.
With increasing laser power, it is possible to texture larger growing areas with a single pulse. However, to reach required industrial rates (>1m2/min), it is not enough to have a powerful laser – the energy needs to be spread on the surface in a controlled manner to create periodic structures with the required pitch and depth. Even the fastest scanner and axis system on market today cannot do this point by point, so the light must be shaped by beam shaping optics to achieve the desired pitch.
Laser beam shaping approaches for surface texturing
Multi-beam processing is often used, by utilizing a diffractive beam splitter to split the laser energy to multiple spots on the surface, that are then stitched by scanning to cover the entire surface. This method suffers from the need for very accurate stitching, reducing speed, especially for high NA (dense pitch surfaces) where scanning cannot be used.
Direct Laser interference Patterning (DLIP) is an alternative method where several beams are interfered to create a controlled intensity pattern. This method requires complicated laser beam shaping optics that are not standard in the high-power laser industry, and the system is very sensitive to alignment tolerances. Furthermore, such systems have a gaussian envelope to the spots pattern, often requiring the use of a flat top laser beam shaper to achieve spot uniformity.
DLITe™ – Holo/Or's latest solution for Diffractive Laser Induced Texturing , based on a special beam splitter design that creates a dense pattern of uniform spots or lines at the target surface. This pattern covers a large area (as much as the laser power is capable of patterning in a single pulse), reducing stitching effects and enabling high throughput processing. Even better, the DLITe™ shapers are single, low cost components with high efficiency, being standard beam shaping optics with almost no sensitivity to centration or tilt. This makes the optical system much simpler, consisting of a DLITe™ DOE, a focusing optics and a scanner or moving stage.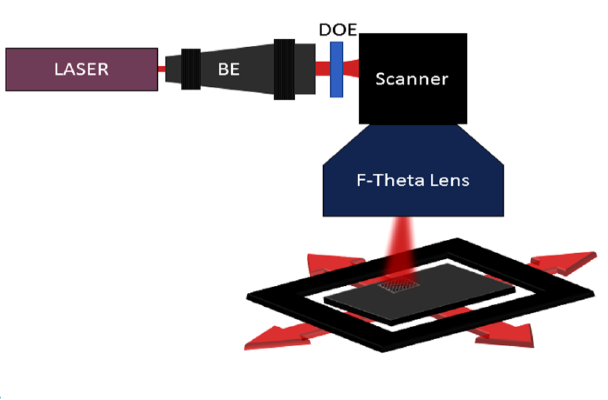 The DLITe™ concept validation at HiLASE
Our DLITe™ concept was introduced in a scholarly article on June, 2020. To validate it, Holo/Or has collaborated with HiLASE center, using their Perla 100 laser system and our DLITe™ MS-805-I-Y-A laser beam shaping element,  with a standard scanner and F-theta lens setup.  
 As you can see in the image, a 1X1mm pixel was created by our beam shaping optics and scanned over the surface. Each shot patterned the 1X1mm area with a dense pattern of holes having a pitch of 20um, and the entire 4X4cm area was patterned in just under 1.6s. As you can see in the processed surface image, the DLITe™ is similar to a flat top laser beam shaper output, but with excellent contrast between dark and light area and very good spots uniformity.
What is laser surface functionalization?
laser surface functionalization is any laser-based process that modifies the surface properties of materials, including tribological properties, hydrophobicity, anti-icing, anti-bacterial surfaces and other functionalities. 
What are the different approaches for laser surface functionalization with laser beam shaping?
 In general, there are many approaches, the most common ones being multi-beam processing, point by point scanning, direct laser interference patterning (DLIP) and Holo/Or's unique DLITe™ method.
What are the advantages of the DLITe™ laser beam shaping approach for texturing?
DLITe™ utilizes a simple, robust optical setup with components commonly used in high power laser systems. It has high throughput with stitching issues, without requiring special optics or tight tolerances in assembly.
Was DLITe™ proven to work?
Yes, in a collaboration with HiLASE Centre, the DLITe™ has been proven to work in a classical scanner + F-theta and DOE beam shaping optics setup. A shaped light structure with a pitch of 20um and >2500 dots per 1X1mm was scanned over a 16cm2 area, creating a LIPSS with 20um pitch on the stainless-steel surface.