What is a Diffractive optical element? A short history of light shaping
From antiquity, mankind has strived to fashion and shape light – from the mirror shield used by Archimedes to burn Roman ship, through Fresnel's huge, hand-ground lighthouse lenses through today's micro-optics, we wanted light to go exactly where we want it.
In the past, our ability to shape light was limited to elements utilizing refraction and reflection, such as lenses, prisms and mirrors. These elements are well described by the geometrical optics, where light beams can be thought of as rays, like the paths of flying particles, and the elements shape the light by deflecting these ray path.
The development of the Laser by Maiman in the middle of the 20th Century opened the way to a new type of light shaping, considered only a theoretical possibility before then.
This way of light shaping utilizes the wave nature of light, and modifies the phase of the propagating light by slowing down the light in some areas of the beams vs. others, thus shaping the light using diffraction effects.
An element that works using this diffraction principle is called a diffractive optical element (DOE), and the way it alters the phase of the light propagated through it is by using micro structure patterns fabricated onto the substrate material. Light that goes through the raised areas in the diffractive element moves more slowly than light that goes through the lower areas (as light speed in air is faster than in the material), creating a controlled phase delay.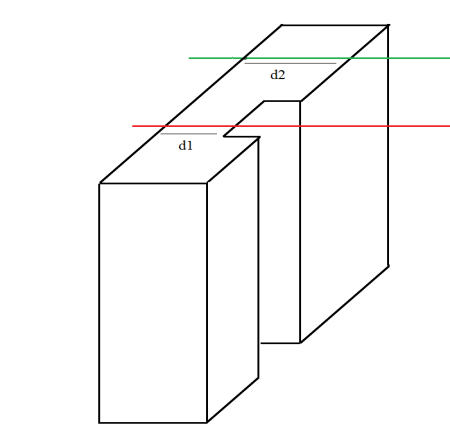 By modifying the diffractive optical element design, a DOE can be tailored to control the phase of the beam and manipulate it into almost any desired intensity profile and shape. Their flexible shaping possibilities, along with other advantages such as their absolute angular accuracy at design wavelength, their small dimensions and flatness, make diffractive optical elements the go-to solution in many laser applications.
Most commercial DOEs used today are digital optical elements, a family of DOEs that was originally developed at MIT Lincoln labs in the 70's, and commercialized by Holo/Or Ltd. in the 90's. In the next section we will see how they are made.
Digital diffractive optical element design & production
Digital diffractive optical elements are produced on flat substrates using standard semi-conductor industry methods. This is achieved by first breaking the design down into discrete ("binary") steps. In each step, the substrate material is lithographically patterned then dry etched, resulting in a doubling of the number of height levels.  By utilizing multiple steps a sufficiently close approximation to the desired continuous 3D profile can be achieved so that performance is optimal.

With over 30 years of experience, Holo/Or has gained substantial experience and expertise in digital diffractive optics design and manufacture, and accumulated know-how in DOE design for production, so that we can simulate the effect of production tolerances on diffractive optical elements performance and guarantee realistic specifications.
Diffractive optical element types
DOE can be roughly divided into three main families
Diffractive beam splitters – split the input beam into several orders, each identical to the input beam, at controlled separation angles.
Diffractive beam Shapers – modify the input beam shape, size and intensity profile to a desired distribution. Often a sharp edges flat top shape is desired.
Diffractive foci shaping elements – shape light along the system main axis, often by changing the focus properties of an external lens. Examples include splitting the focus into several foci, creating Bessel beams with extended depth of focus and diffractive achromatic lenses.
Where are Diffractive optical elements used?
The range of applications for DOE is truly vast, and encompasses categories such as 3D sensing and LIDAR, Laser material processing, Laser Aesthetic treatments, Inspection and metrology and many other applications.  
What is a diffractive optical element?
A diffractive optical element (DOE) is an optical component that shapes light by utilizing its wave-like nature.
How does a DOE shape light?
The DOE has a thin structure of bumps on its surface. Light going through the bumps is delayed compared to light going through other areas, creating a phase profile. This phase profile then shapes the intensity of the beam at far-field.
What is the production process of a diffractive optical element?
At Holo/Or, DOEs are first designed and optimized for best performance using our own software tools, taking production tolerances into account. The Kinoform phase is broken down to binary steps, and then each step is fabricated in a lithographic manufacturing process similar to that of semiconductors.