Laser beam splitting optics enable many laser applications by splitting a laser beam in a precise manner. A growing family of laser beam splitting applications is in the field of thin sheet perforation. By splitting a laser beam using diffractive laser beam splitters, many holes can be made simultaneously, enabling higher process speeds and throughput. A single DOE splitter and a large field focus optic are enough to cover a large area of more than 20X20cm with a perforation pattern in a very short time, enabling high speed roll-based production schemes.
Perforation using laser beams is also often preferred over other methods as it does not exert any external mechanical forces on the sheet, enabling perforation of delicate materials. It is also easily integratable and can be incorporated into existing manufacturing processes.
General background: what are diffractive beam splitters?
Diffractive beam splitters, or multi-spot elements, are a family of diffractive optical elements (DOEs) that split an incoming laser beam into an array of beams with controlled separation angles.
This splitting can be along a line (1-D splitters), or into a matrix (2-D splitter), including square, hexagonal or rectangular array arrangement.  The beam splitter is a periodic phase element, similar to a grating, and is optimized to provide a certain splitting angle at the design wavelength, with maximal efficiency. Since the beam splitter phase is periodic, these elements are not sensitive to centration of the beam or to the beam size- the splitting angle will be determined only by the design and the laser wavelength.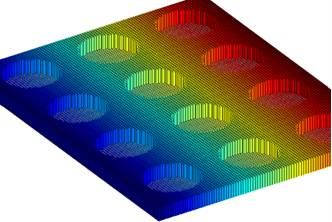 After splitting, the array of beams is often focused using a focus lens to generate an array of spots at the focal plane. The size of these spots is the same as the spot size of the laser beam without the DOE, and is determined by the width of the input laser beam, the lens EFL, the wavelength and the laser beam shape (M2).
Perforation of food packaging:
Food packaging is used to preserve freshness of food by isolating it from the outside air and humidity. But fresh produce often creates water vapor inside the packaging that cannot escape the air tight package, increasing humidity and damaging the freshness of the produce. For this reason, food packaging is perforated using laser beams with carefully selected holes size made with laser beam shaping optics, to optimize the breathability of the packaging and freshness-preserving. The spacing between the holes can also be controlled with highest precision, and easily altered by switching the DOE. All this whilst maintaining high consistency throughout the perforated surface, enabling high-throughput of the production process.
Production of custom-designed filters:
Micro scale particles of plastic called micro-plastic are carried with waste water into our oceans, causing damage to our biological ecosystem. In order to reduce this pollution, a micro-scale sieve needs to be designed in order to enable large volumes of water to pass through the sieve at a time, while also catching the micro-plastics and preventing them from entering the ocean. Using laser perforation with micro-scale beam size, such filters can be produces to allows water to pass freely and screen out only the particles of micro-plastic and other particles with similar size. 
Pre- weakening of materials:
Micro-perforation of large areas can weaken the structural integrity of a given material in a very controlled manner. This can be desirable for various applications, from weakening of plastic packaging to enable easy opening, to perforation of plastic interior surfaces in automobiles to enable airbags to inflate when needed. By the micro-scale nature of the holes, these patters can be invisible to the naked eye, allowing automotive and other manufacturers to utilize this technology without compromising on appearance.
Perforation of cigarette filter papers:
In order to make cigarette smoke easier to breathe, cigarette companies mix air along with in, making it less dense and therefore less irritable to the throat. In order to enable that, cigarette filters are perforated with micro-holes which allow air to be mixed with smoke when inhaling while retaining the filters' structural integrity. This laser perforation has much higher throughput then mechanical means, while maintaining the aesthetics of the filter paper.
What are the advantages of laser perforation to mechanical perforation?
Perforation using laser beams enables high throughput by splitting the laser beam into multiple sub-beams, each with optical properties identical to the input beam. Each sub-beam perforates a single hole and together they can cover large areas with thousands of holes at once, with absolute accuracy on their position.
Another advantage is that laser beams do not exert physical pressure on the perforated material, enabling the perforation of delicate substrates.
WHAT ARE DIFFRACTIVE BEAM SPLITTERS?​
Diffractive beam splitters, or multi-spot elements, are a family of diffractive optical elements (DOEs) that split an incoming laser beam into an array of beams with controlled separation angles.
What are common use cases for perforation using laser beam shaping optics?
Laser perforation can be used for any application which requires precision hole drilling in materials. From the making of cigarette filters, or filters to sieve micro contaminants in water, to weakening of materials and many more.
You might also be interested in: